Calgary library wins AIA's contemporary architecture award
January 28, 2020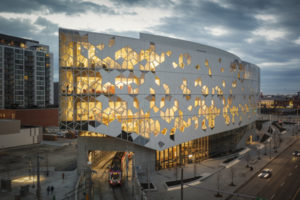 Designed by Snøhetta and Dialog, the Calgary Central Library[2] in Alberta is a recipient of the 2020 Architecture Awards by the American Institute of Architects [3](AIA). The awards celebrate the best in contemporary architecture and highlight the many ways buildings and spaces can improve lives.
The nine-member jury selects submissions that demonstrate design achievement, including a sense of place, purpose, history, and environmental sustainability.
This year's other recipients are:
Chhatrapati Shivaji International Airport Terminal 2[4] (Mumbai, India) by Skidmore, Owings & Merrill;
Ed Kaplan Family Institute for Innovation and Tech Entrepreneurship[5] (Chicago, Illinois) by John Ronan Architects;
Floral Court[6] (London, United Kingdom) by Kohn Pedersen Fox Associates;
Glenstone Museum[7] (Potomac, Maryland) by Thomas Phifer and Partners;
Jishou Art Museum[8] (Jishou, China) by Atelier FCJZ;
Minnesota State Capitol Restoration[9] (St. Paul, Minnesota) by HGA; and
Tivoli Hjørnet[10] (Copenhagen, Denmark) by Pei Cobb Freed & Partners.
Endnotes:
[Image]: https://www.constructioncanada.net/wp-content/uploads/2018/11/opener.jpg
Calgary Central Library: https://www.constructioncanada.net/calgarys-new-central-library-elevates-the-cityscape/
American Institute of Architects : https://www.aia.org/showcases/6248980-hunters-point-south-waterfront-park
Chhatrapati Shivaji International Airport Terminal 2: https://www.aia.org/showcases/6249915-chhatrapati-shivaji-international-airport-
Ed Kaplan Family Institute for Innovation and Tech Entrepreneurship: https://www.aia.org/showcases/6249946-ed-kaplan-family-institute-for-innovation-
Floral Court: https://www.aia.org/showcases/6249964-floral-court
Glenstone Museum: https://www.aia.org/showcases/6250532-glenstone-museum
Jishou Art Museum: https://www.aia.org/showcases/6250540-jishou-art-museum
Minnesota State Capitol Restoration: https://www.aia.org/showcases/6251722-minnesota-state-capitol-restoration
Tivoli Hjørnet: https://www.aia.org/showcases/6251758-tivoli-hjrnet
Source URL: https://www.constructioncanada.net/calgary-library-wins-aias-contemporary-architecture-award/
---