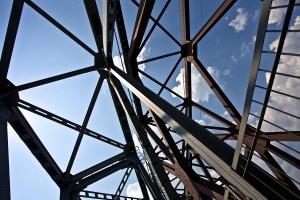 The Canadian Institute of Steel Construction (CISC) is voicing concern about the impact of protectionist legislation preventing Canadian firms from competing in the United States, as well as at home.
The Buy American Act/Buy America campaign is one such legislation preventing Canadian firms from participating in projects in their own country, according to CISC. The example the group cites is the Prince Rupert Ferry Terminal in British Columbia, which is owned by the Alaska Marine Highway System, but located on land owned by the Canadian Federal government. Buy American Act provisions are in place for the project, specifying the project's iron and steel products must be manufactured in the United States.
"This severely undermines the ability of Canadian steel firms to supply to their own domestic market, and makes a mockery of the very spirit of free trade and all our formal agreements such as North American Free Trade Agreement (NAFTA)," said CISC president Ed Whalen.
CISC and the Canadian steel industry are encouraging all levels of government to adopt reciprocity and fair trade resolutions or acts to preserve the Canadian marketplace.
"This creates a domino effect that cascades down our entire supply chain, negatively affecting investment and growth, stifling innovation, and ultimately causing job losses across a wide spectrum of Canada's manufacturing industries," said CISC's Tareq Ali.
For more information, visit cisc-icca.ca.