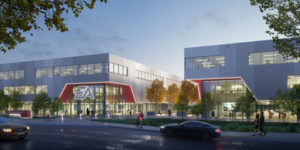 EA Sports will be taking up residence in Burnaby, British Columbia's two new office buildings designed by DIALOG.
The new buildings will deliver an additional 27,871 m2 (300,000 sf) of Class-A office space in the city of Burnaby, adjacent to EA Sports' existing 6 ha (12.6 acre) campus.
The expanded footprint of the company's north campus will accommodate more than 1000 additional employees and will contribute to the region's growing reputation as a technology employment hub. The other building is currently vacant and is available for lease.
The first of the two buildings will complete construction in early 2024, with interior work scheduled to wrap up by the end of that same year. The second building is planned to be finished in early summer 2024. The collaborative design and construction team has developed the project under a lean construction model, in an effort to minimize waste and construction timeline inefficiencies.