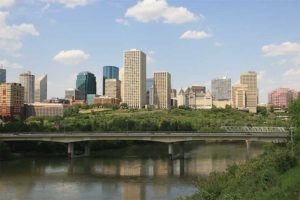 By Blair Adams
The City of Champions had little to celebrate this spring—its beloved National Hockey League (NHL) team, the Edmonton Oilers, failed to make the playoffs while a record-breaking streak of freezing temperatures kept Edmontonians indoors well into late April. Fast forward a month, the clouds parted, the climate warmed, and spirits lifted just in time to welcome delegates to the Construction Specifications Canada (CSC) annual conference, held May 23 to 27.
The Edmonton Westin was the host hotel for this year's conference under the theme, "Building
on Collaboration."
A hallmark of CSC conferences is the networking opportunities combined with a first-rate speaker program. This year, the Edmonton Chapter's organizing committee raised the bar a little higher, garnering much praise from attendees.
The event kicked off with the Welcome Reception (sponsored by Building Systems Design [BSD]), followed the next day by the Welcome Breakfast (sponsored by Alumicor) featuring keynote speaker Linda Edgecombe, who had the audience not only laughing, but also pondering the question, "Am I happy?" with her presentation, "Holy Crap I'm Busy: Moving from Overwhelm and Distraction to Energized and Resilient."
The technical discussions were often standing-room only as attendees had a choice of three educational streams each day. The sessions included presentations such as "Emergent Technologies in the Conservation of Historic Places" with NEXT Architecture's Allan Partridge and "Emerging Solutions, Products, and Methods for Getting to Net Zero" by Christian Ciafrone of Morrison Hershfield. There was also a well-attended two-part workshop put on by Erik Lussier and Cherise Lakeside entitled, "Let's Fix Construction."
Throughout the conference, there were experts sharing experience and advice on everything from insulation, project commissioning, office design trends, and acoustics to Leadership in Energy and Environmental Design (LEED) v4.
Toting SpecMarket.com, an alliance between CSC and BSD, conference bags, attendees were also able to network during "speed" sessions between seminars or among the sponsor booths during the packed Connections Café.
At the Thursday luncheon, delegates listened to Robert Black, executive vice-president of the Katz Group, discuss the at-times-controversial process of building the city's new arena and entertainment complex, Rogers Place, and the development of the surrounding Ice District.