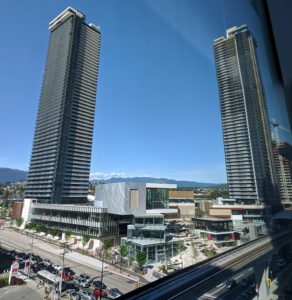 Design firm Stantec engineered the redevelopment of British Columbia's 11 ha (28 acre) Brentwood Town Centre.
The project will take up around 46,452 m2 (500,000 sf) of urban space and will be situated around a public plaza. The building includes an office space, six levels of parking, and 418,064 m2 (4.5 million sf) residential space.
Stantec served as the architect of record for the commercial work as well as for residential towers 1 and 2, and are the architects and mechanical engineers for tower 3. They  also aim to provide sustainability and building performance consulting to support the LEED certification targets for the project (LEED core and shell, LEED for new construction, and LEED for neighborhood development), and their project technology team contributed a web-based request for information (RFI) dashboard based on the legacy RFI system used on the project.
This was one of the first projects to leverage collaboration for 'revit,' a new cloud-based technology from the autodesk and BIM360 teams. This innovative technology use landed the firm on the shortlist for CanBIM 2017's BIM Awards for best design technology.