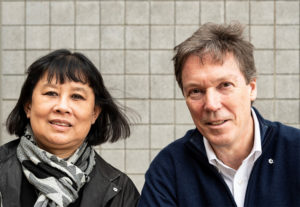 The Royal Architectural Institute of Canada (RAIC) has awarded the 2021 Gold Medal, the institute's highest distinction, to Brigitte Shim and A. Howard Sutcliffe.
Shim and Sutcliffe are the founding partners of Shim-Sutcliffe Architects. Their work expresses a deep concern for the cultural and spiritual significance of architecture, landscape, and design. To date, their built projects have been recognized with 15 General's Medals for Architecture and an American Institute of Architects (AIA) National Honor Award, along with many other professional accolades.
"Over the past quarter of a century, these architects have made an absolutely fundamental contribution to Canadian architectural culture, and the 15 Governor General's Medals for excellence they have received over the past 25 years surely testifies to the consistent calibre of their practice," writes historian Kenneth Frampton. "In my view, Shim-Sutcliffe are among the top 20 architects practicing in the world today."
Born in Kingston, Jamaica, Shim emigrated to Canada in 1965. She met Sutcliffe at the University of Waterloo, Ont., where they both graduated with degrees in environmental studies in 1981 and architecture in 1983. In 1981, Shim also began apprenticing with architect Arthur Erickson in Vancouver. Upon graduating, she worked with Baird/Sampson Architects in Toronto and began teaching at the University of Toronto (U of T) in 1988.
Shim is currently a Professor at the John H. Daniels Faculty of Architecture, Landscape, and Design at U of T, leading courses including core design studios, advanced design studios, and many elective courses. She has been an invited visiting professor at Yale University's School of Architecture, the Cooper Union, Harvard University's Graduate School of Design, the École Polytechnique Fédérale de Lausanne, and the University of Auckland, among others.
Sutcliffe was born in Yorkshire, England, and emigrated to Canada in 1964. After graduating from university, he worked in the studios of Ronald Thom, Barton Myers, and Kuwabara Payne McKenna Blumberg Architects. At these firms, he contributed to international and national competitions and built projects including Kitchener City Hall, Ont.. In 1991, Sutcliffe was the inaugural winner of the Canada Council's Ronald J. Thom Award, given for early design achievement.
Shim and Sutcliffe have collaborated since 1983. Early built works include an architectural garden in Don Mills, a house on Horse Lake in Haliburton, Ont., and their own residence—the Laneway House in Toronto. All three of these works were recognized with Governor General's Medals in Architecture.
"The transformation of marginal urban sites is an important part of our practice," write Shim and Sutcliffe, describing how such a strategy also applied to later projects on apparently banal sites, including Ledbury Park in north Toronto and Bet Ha'am Synagogue in Portland, Maine.