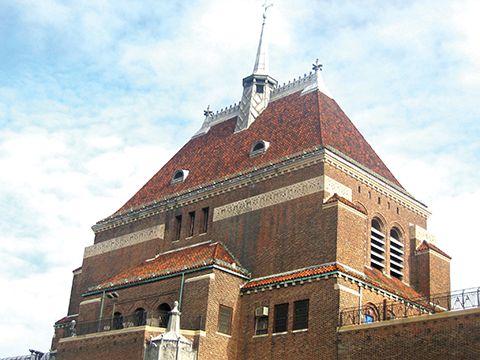 By Arthur L. Sanders, AIA
Durability is a hallmark of brick masonry construction, but even time-tested materials require maintenance to ensure a long life. Managing a property listed on the Canadian Register of Historic Places or a protected historic resource may also mean negotiating conservation standards, treatment guidelines, provincial or municipal regulatory restrictions, and community interests when considering how best to remediate deteriorating masonry. With all these considerations, even a quality brick structure can feel more like a liability than an asset. With the right strategy, however, masonry repairs need not overwhelm your schedule or budget.
Coupling restoration strategies with contemporary technology, a qualified design professional can develop a rehabilitation and maintenance plan that accommodates individual financial, technical, and aesthetic considerations. While deteriorated brick and mortar mean repairs, addressing the problem today will mitigate large-scale remediation tomorrow.
A successful project begins with a design professional who has demonstrated expertise in historic masonry restoration and specialized knowledge of early building techniques. It is important to consult with owners of historic buildings in the area, and with local preservation offices and industry organizations, to identify architects or engineers who have a proven track record with similar projects. Literature should be requested that describes qualifications and experience from any firms under consideration. Having a qualified mason and/or restoration contractor is also vital to a historically sensitive renovation, as there are many examples of historic masonry that has been ruined by poor judgement on the part of the person performing the work. Once the design professional has been selected, he or she can recommend masons and contractors with whom they have worked before.
The first step
Periodic comprehensive surveys of the building's exterior should be the foundation of any routine maintenance and repair plan. This means that maintenance personnel should familiarize themselves with the properties and expected performance of the exterior wall materials. Specifically, they should look for the following indications brick masonry may be in need of maintenance or repair:
efflorescence (i.e. a powdery residue on the brick surface that results from water-soluble salt deposits);
spalling (i.e. missing or loose pieces of brick face);
mortar joint deterioration (specifically mortar that has softened, broken apart, or cracked);
loose, cracked, or displaced bricks;
visible moisture damage (building interior or exterior); and
mould or plant growth on masonry surfaces.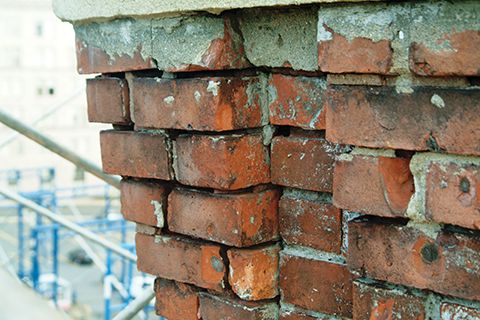 Early investigation into these conditions can prevent more costly future repairs. For example, small cracks in mortar can allow water to penetrate the joint. With each freeze-thaw cycle, the mortar further deteriorates, allowing more water to enter the wall system, further compounding the problem. Eventually, the mortar falls out, leaving loose (and possibly dangerous) brick. Thus, addressing seemingly minor issues is important for preventing the development of critical problems.
In the case of water infiltration, the apparent cause may be but one effect of the problem's true source. For instance, the symptom may be deteriorating mortar, but the cause could actually be improperly installed copings or flashings or even a leaky roof—either of which could allow water to enter the wall system. Here, an experienced design professional can help the owner avoid another costly repair job in the future by correctly diagnosing the underlying problem.
A thorough investigation
Why do brick and mortar deteriorate? Some contributing factors design professionals frequently look for include:
excess moisture penetration at joints;
weathering, including exposure to successive freeze-thaw cycles;
contemporary conditions, such as pollution, not considered in the original building design;
uneven settlement of the building foundation;
thermal movement of masonry, especially at parapets;
unequal expansion/contraction of the face masonry with the backup (this can include re-anchored face brick when improper anchorage is used); and
capillary action causing rising dampness (water drawn into the building materials from the ground up).
Often, a combination of factors may be the culprit in masonry deterioration. For a repair or maintenance effort to achieve lasting success, the plan must address underlying conditions before other repairs are initiated. Preventive measures should also be included in the overall action plan to limit or slow future deterioration.

Control the content you see on ConstructionCanada.net!
Learn More.