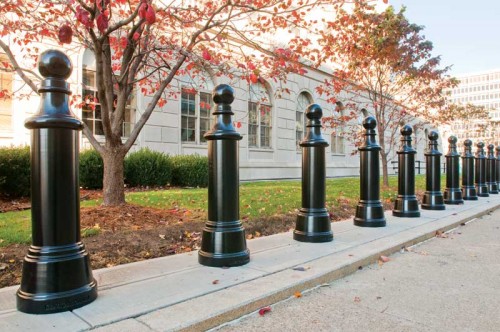 By Brad Done
Universities and colleges often function similarly to small towns or communities. Architects and planners have their work cut out for them as several Canadian campuses have seen an increase in the construction of many of the facilities and amenities found in typical cities. Along with learning centres and student living quarters, post-secondary institutions now include:
shops;
banks;
restaurants/pubs;
large sports venues; and
business offices.
These rejuvenated campuses or communities have brought with them an increased strain on each institution's infrastructure and a call for heightened safety and security (i.e. asset protection) on roads and in parking areas. Higher foot and bicycle traffic levels also make campus planning demands unique.
With diverse facility types, increased numbers of visitors, and unique traffic flow requirements, architects are tasked with finding ways to incorporate security and safety measures wherever possible. When planning or revitalizing campuses, precautionary measures should be taken to ensure student safety and prevent damage to institutions and businesses. Planning for traffic control and management is necessary.
One strategy being put into action is the use of bollards, as they can play a pivotal role in ensuring safety and security when implemented in architectural planning for campus life.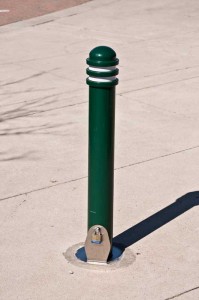 Bollards defined
Bollards are short posts, usually 914 to 1321 mm (36 to 52 in.) high. They are specified as protective barriers, to give demarcation to an area, or to control vehicle and pedestrian traffic flow. Basically, bollards are a simple way for an institution to communicate its traffic management plan and flow expectations.
Since each campus has specific needs, bollards can be used in different plans to suit each institution's requirements. The type of bollard and its composition should be dictated by its intended role in the institution's architectural design. Surrounding any facility, several types of bollards are often seen. The following are the common functions of bollards on college and university campuses.
Traffic bollards
Bollards can manage both vehicular and pedestrian traffic. They are an efficient means of communicating the expected route people, bicycles, cars, and trucks must take.
On roadways
Flexible bollards can bend 90 degrees on impact to reduce damage to vehicles. This makes them a suitable choice for areas where cars may swipe or hit them directly. Although flexible bollards provide no impact resistance, they do act as a visual deterrent, stopping vehicles from taking the incorrect route.
Often seen during the approach to a toll booth, flexible bollards often separate traffic where travellers must remain in their lane. These bollards keep cars from switching lanes close to the structures. Used in similar functions, flexible bollards can separate bicycle and car lanes at dangerous curves, keep cars in place near campus stadiums, and ensure cars safely navigate through designated paths in large parking lots.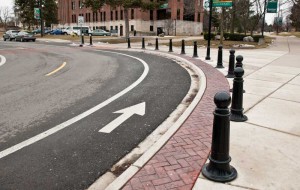 In parking areas
Bollards constructed from cement-filled steel pipes are often placed in campus parking lots to protect pedestrian walkways and ticket machines. Cars and trucks regularly misjudge turns and cut close to sidewalks. Strong, immovable bollards stand guard to absorb any accidental impact. These 'bumper posts' can be enhanced by adding bright-coloured security sleeves. The plastic sleeve is an inexpensive, low-maintenance way to increase the bollard's visibility and protect it from the elements.
At access points
Campus stadiums and buildings often restrict vehicle access down the driveways, laneways, alleys, or small roads surrounding them. Bollards that are removable or retractable (i.e. they telescope into the ground) can be installed across the thoroughfares, spaced close enough together that a car cannot fit through. They deter the general public from entering restricted areas, but can also be removed or collapsed to allow temporary access for maintenance, delivery, or emergency vehicles. The locking mechanisms can be quickly opened by authorized personnel, but the bollard does deter and discourage vehicles from trying to get through uninvited.
Retractable or removable bollards should be considered where seasonal access is granted or restricted for public vehicles. Parks often use them to close off areas in winter and re-open them in spring. Similarly, retractable and removable bollards can allow access to sports fields during the season and then restrict access in the off-season.
The choice between retractable or removable bollards can be as easy as determining whether there is an adequate storage location for them once removed. If storage space is unavailable, then retractable bollards may be a suitable choice.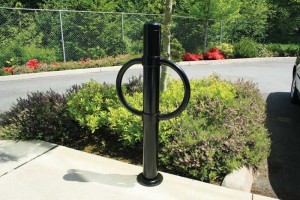 Safety bollards
Safety bollards are not only a visual deterrent, but they also serve to prevent vehicles from accidentally breaching pedestrian areas. When used in safety applications, bollards must offer high levels of impact resistance to protect pedestrians from possible injury. Incorporating safety bollards into a campus traffic management plan also:
alerts pedestrians on a sidewalk they are approaching a road;
keeps small motorized vehicles off vegetated areas, sidewalks, and walking paths;
deters students from driving vehicles close to dormitories and residences when loading and unloading;
protects pedestrians near shops where they may be placing phone calls, window-shopping, or accessing bank machines; and
designates the safest path for students to take (e.g. keeping pedestrians at a safe distance from buildings where there may be an increased risk of ice-slide from the building's roof).
When specified in safety applications, bollards are often 'fixed'––permanently set in place. When using retractable or removable bollards in a safety application, it is important to note the bollards provide no impact resistance and therefore act only as a visual deterrent.

Control the content you see on ConstructionCanada.net!
Learn More.