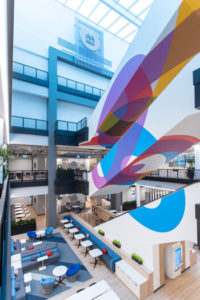 Recently opened, BMO Place is a 32,516-m2 (350,000-sf) workspace for the Bank of Montreal (BMO) within Toronto's Eaton Centre at Yonge-Dundas Square. The workplace has repurposed a former Sears office into a transformative space with accessibility, inclusion, and collaboration in mind.
The office is aligned with BMO's zero barriers to inclusion strategy, and features flexible design and advanced technology to enable optimal employee work experience, as well as environmentally friendly design, materials, and technologies to support the company's commitment to sustainability.
Accessibility and wellness features include:
Wellness centre for mediation, prayer, and nursing
Gender-neutral and barrier-free washrooms
Braille and voice-enabled elevators
Colour strategy that supports neurodiversity and aids in navigation through the space
Large outdoor terraces and wellness rooms
Every aspect of the space has been created to foster personal connections and inspire innovation through features such as ergonomic workstations. The new workspace is a revitalized building that has been designed for Leadership in Energy and Environmental Design (LEED) gold certification.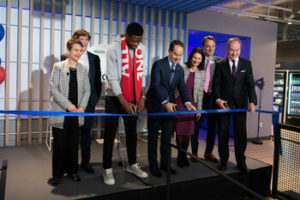 To conserve energy, BMO Place has innovative mechanical and electrical systems, lighting automation, and water-use efficiency. The centralized waste management strategy takes a streamlined approach by reducing the volume of plastic liners going to landfill.
"We are thrilled to mark this moment in BMO's history. Our new world-class workspace, part of our broader investment in our modernized global real estate footprint, has been designed to enable innovation, collaboration, and growth," says Cameron Fowler, chief strategy and operations officer, BMO. "It fosters sustainable, accessible, and inclusive work to support the progress of our colleagues, customers, and the community, and builds on similar investments in Milwaukee, Chicago, London, and New York City."