Nature equivalent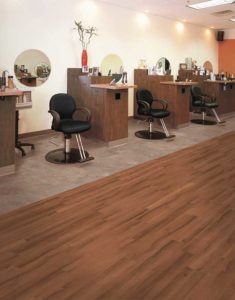 Nature equivalents address organic, non-living, and indirect evocations of nature. Objects, materials, colours, shapes, sequences, and patterns found in nature, manifest as artwork, ornamentation, furniture, decor, and textiles in the built environment. Mimicry of shells and leaves, furniture with organic shapes, and natural materials that have been processed (e.g. wood planks or granite tabletops) provide an indirect connection with nature. While they are real, they are only analogous of the items in their 'natural' state.
Flooring can evoke nature equivalents in a wide range of ways. For example, advances in printing and embossing technologies can create luxury vinyl tile or sheet with highly detailed and realistic wood or stone visuals. Other designs might feature patterns of nature, such as those mimicking geological striations. The materials can also provide a tie to the natural world, such as bio-based flooring, made with limestone and rapidly renewable materials.
Benefits of biophilic design
Biophilic design is believed to offer benefits both to the physical health of occupants and to the economic well-being of owners. Evidence-based design research in a health care setting has shown patients exposed to a nature view of water and trees demonstrated less anxiety, required fewer strong doses of pain medication, and had improved recovery outcomes compared to patients who were exposed to abstract pictures and control groups given no pictures (For more information, read the "Effects of exposure to nature and abstract pictures on patients recovering from heart surgery" by R.S. Ulrich, O. Lundén, and J.L. Eltinge, abstract published in Psychophysiology in 1993.).
Human health and well-being is very important for obvious reasons, but from a building owner's perspective, it is important because the salaries of the people who work in the building dwarf any other expense. Mounting evidence-based research demonstrates the positive benefits of biophilic design. One report showed employees in environments with natural elements reported a 15 per cent higher level of well-being and they were found to be six per cent more productive and 15 per cent more creative overall (Read Human Spaces: The Global Impact of Biophilic Design in the Workplace by Cary Copper [2015].). Biophilic changes can help employers reduce absenteeism and also support employee productivity and retention. In health care settings, it is estimated providing patients with views to nature can shorten hospital stays, potentially saving more than $93 million annually (Consult the Economics of Biophilia by W.D. Browning et. al, Terrapin Bright Green, LLC, 2012.).
Looking at just one aspect of this, consider the health, productivity, and economic benefits from daylighting. Good daylighting techniques include:
configuring buildings properly;
elongating structures along an east–west axis;
locating critical visual tasks near the building's perimeter and workstations and computer screens perpendicular to windows;
bringing the light in high;
admitting daylight from more than one side of a space;
controlling direct sunlight; and
using light-coloured interior surfaces.
By ensuring the best use of daylight within a space, designers can not only help reduce the need (and related cost) for lighting from electricity, but also help building occupants maintain continuity of their circadian rhythms, or 'built-in clocks,' and regulation of sleep cycles.
Flooring can play a very key role in supporting daylighting. Choosing light-coloured flooring will reflect more daylight and act as a light shelf to drive sunlight farther into a space (Read Energy Saving Potential of High Reflective Flooring Material for Sustainable Interiors by R.G. Mistrick [2014].). Thanks to today's wide range of flooring options, colours, and finishes, there are many ways to achieve these benefits without worrying about glare or a plain white floor that may show dirt and wear.

Control the content you see on ConstructionCanada.net!
Learn More.