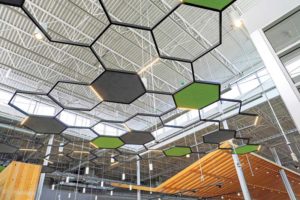 By Howard Yaphe
Fitness centres present architects and designers with unique challenges: large, open areas with few walls, tall ceilings, and often exposed ductwork—none of which is conducive to sound absorption. Like esthetics, lighting, and air quality, sound is an integral component of the club experience. If managed well, it complements and enhances the environment. However, if noise is ignored and left to its own devices, it can produce unpleasant moments, stopping members from entering the space.
According to the Illuminating Engineering Society (IES), people have a bandwidth capacity to process only 1.6 human voices at any given time, anymore becomes added noise. Hypertension, impaired cognition, and general lack of concentration are all results of a poor acoustic environment. In addition, public spaces require a certain level of speech privacy for both productivity and legal reasons. Speech privacy refers to the degree to which a conversation cannot be overheard in an adjacent space. In public spaces, where confidentiality is not necessarily needed, sound absorption materials—versus physical barriers or sound blocking options—may be the perfect solution to help with speech privacy, while being a vital part of the design.
Legally required national acoustic codes are different between Canada and the U.S. at the level of model codes, with each country having its own specifications for how those requirements are implemented. Additionally, each province, territory, or state mandates how building code soundproofing requirements are applied in their jurisdiction.1 In the U.S. codes are set by the International Building Code (IBC) and the U.S. Department of Labor's Occupational Safety & Health Administration (OSHA). Each has established standards and limits for noise exposure.
The National Building Code of Canada 2015 (NBC) is like the IBC in that it is a national model code. Canada's constitution gives the 10 provinces and three territories jurisdiction over the establishment and enforcement of construction codes. Some cities also have autonomy over their own building codes as directed by their provincial authority. NBC 2015 includes an extensive section on acoustics. In drafting this most recent version, the National Research Council Canada (NRC) worked closely with industry partners to test and evaluate various building elements and their connections to adjacent building elements.2

Control the content you see on ConstructionCanada.net!
Learn More.