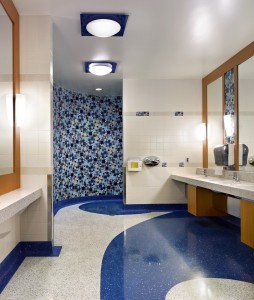 The five finalists have been named for the 2014 Canada's Best Restroom contest.
The annual competition, put on by Cintas Canada—a uniform, data management, and restroom-cleaning company—aims to recognize businesses creating unique and clean facilities for customers.
This year's finalists are:
● Toronto's Patria restaurant;
● Destination Africa pavilion at the Calgary Zoo;
● Planet Hollywood restaurant in Niagara Falls, Ont.;
● Shaw Club Hotel & Spa in Niagara on the Lake, Ont.; and
● Vancouver International Airport.
The final five designs all feature unique design elements, but remain functional for users.
Last year, the Valleyview Shell Super Station in Valleyview, Alberta was crowned the King of the Throne. This facility features alder wood doors and details, as well as automatic stainless steel fixtures and ornate carved mirrors.
"This contest is fun but it also conveys a critical message that restroom hygiene matters—for good health and good business," said Cinta's senior marketing manager Leslie Molin.
Voting is open to the public at www.bestrestroom.com/canada/vote.asp, and the winner will be announced later this fall.