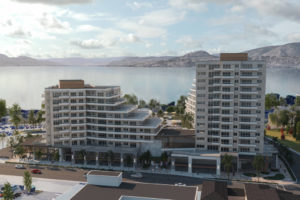 The terraced design of a proposed mixed-use development by the Gyro Beach in Kelowna reflects a unique response to adjust the buildings' massing to harmonize with the size and surroundings of the neighbouring structures and streetscape.
Movala, formerly known as The Residences at 3340 Lakeshore, is to cover an area of 1.7 ha (4.4 acres). Its strategic position lies at the boundary of Kelowna South/Gyro Beach and the rapidly developing South Pandosy "Urban Village" to the north.
The architect, Meiklejohn Architects Inc., extensively consulted the neighbourhood residents and researched the site to come up with the following design features:
Utilization of terraced building designs to reduce the casting of shadows.
Placement of buildings at a comfortable distance apart to allow for unobstructed sightlines.
Division of buildings into smaller units to foster a sense of a "city within a city."
Preserve the appearance of a two-storey "podium" on all four sides to maintain a consistent pedestrian atmosphere and scale as the neighbourhood's developments.
The development also aims to meet sustainability standards and build to Leadership in Energy and Environmental Design (LEED) certification and to include an electric vehicle (EV) capable parking area to allow for future EV parking/charging spots.