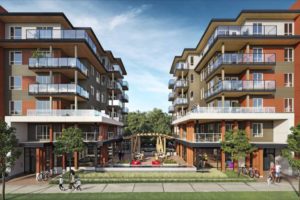 B.C. real estate developer, Adera Development, specializing in wood frame and mass timber construction, released plans for building two multi-storey residences using its proprietary cross-laminated timber (CLT) panel technology, which reduces sound transmission between walls and floors.
The first residential development will be in Surrey, called Pura. It will be near the city's downtown centre and be the first of its kind in the area. The building will feature 248 condos in two buildings adjacent to each other, connected by a common plaza. Taking inspiration from the signature West Coast architecture in Canada, RH Architects designed the modern complex.
The condominium is characterized by large, flat roof overhangs, horizontal massing, expansive glazing, and natural materials. A wood trellis will connect the twin buildings in the central courtyard, offering a welcoming community space for occupants.
The second development will be in Coquitlam, called Sol, and it will feature 92 strata and 109 rental units located on top of a hill at the intersection of Como Lake Ave and Robinson. The design firm, RH Architects, presented a similar design to Pura.
Eric Andreasen, senior vice president, marketing and sales at Adera says, "Wood is the only thing that reduces the amount of carbon dioxide (CO2) in the atmosphere, using sustainably harvested wood which is grown locally and not transported from a long way. It is our personal opinion, extensive use of mass timber in the building industry is the only way to effectively slow down climate change; and then possibly, if everyone was to do it, you could start to reverse some of the effects of our industry."