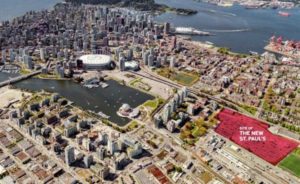 British Columbia approves the $1.9-billion business plan for a new St. Paul's Hospital in Vancouver. Doors of the new hospital are expected to open in 2026.
The project will be delivered using a design-build finance procurement model. The cost will be shared by the provincial government and Providence Health Care. Jim Pattison, CEO of the Jim Pattison Group, has already donated $75 million to the future of St. Paul's. The current St. Paul's Hospital land will also be sold, with funds going toward the new project.
"For over 125 years, people in Vancouver and across British Columbia have benefited from the healthcare provided by St. Paul's Hospital," said Premier John Horgan. "Today, we are safeguarding these life-saving services by taking action to build a brand new St. Paul's Hospital that will serve more people and offer better access to the specialized care people need."
The new facility will be the home of several provincial programs and referral centres, including for heart and lung care, renal, eating disorders, and specialty surgeries and transplants.