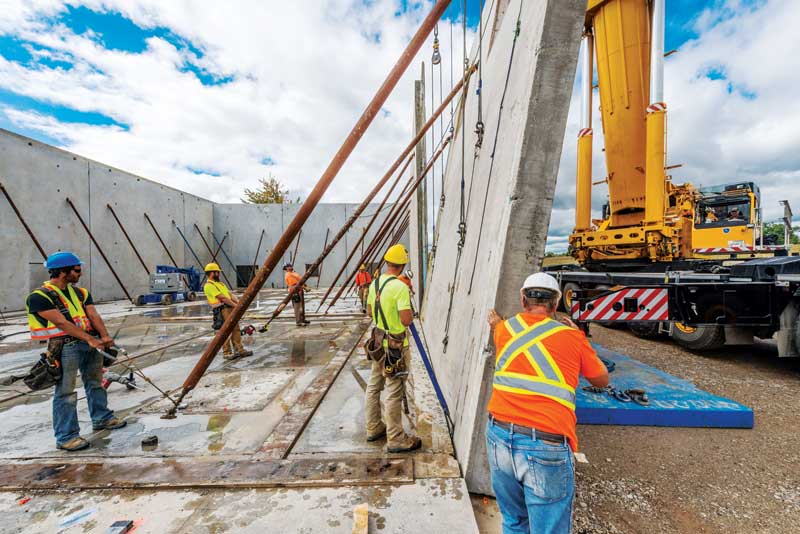 Winter construction
Tilt-up construction has been embraced south of the border and is quite prevalent on Canada's East and West Coasts. Ontario, though, has been slower to adopt the method. One of the reasons is the misconception tilt-up processes cannot be done during the winter.
Last year, Tilt Wall Ontario won the 2017 TCA Achievement Award for Educational Buildings for its work on Ottawa's Broadview Avenue Public School—a project that was successfully completed on a tight schedule throughout the winter months.
"When it comes to winter casting, we simply cure with ground heaters and curing blankets. Curing the concrete is actually easier to control during winter construction than it is in the hot summer sun," explained Len Overbeek, co-founder of the installing firm, Tilt Wall Ontario.
The 6967-m2 (75,000-sf) elementary school consists of 117 site-cast panels of up to 100 m2 (1080 sf). Edward J. Cuhaci and Associates Architects employed a wide variety of tilt-up finish techniques to create a vibrant, attractive building that is suitable for an established urban neighbourhood.
Broadview's exterior finishes include red brick veneer, colourful architectural forms, stain, and glass panels. Unique formliners also allowed the architect to incorporate children's artwork and the handprints of all 950 students into the exterior design.
A method with few limitations
Virtually any size of building can be a tilt-up project. Buildings with footprints less than 55.7 m2 (600 sf) and exceeding 185,806 m2 (2 million sf) have all been constructed using the method—multistorey structures are very common. Panel size can be limited by the size of the jobsite and the cranes available for lifting.
Small building sites—such as in a congested downtown—can present a challenge since tilt-up requires adequate floor space or land for casting beds as well as access for cranes.
In Ontario, Overbeek said finding a design team familiar with the method can also be difficult. Proper upfront co-ordination is vital, since making changes to the panels once they have been cast is not simple. Considering project economics, factors that favor tilt-up construction are: its ability to deliver projects quickly, smaller construction crews, minimized long-term maintenance costs, and potential energy savings.
For the end user, the inside of a tilt-up concrete building feels just like its traditional counterparts—whether it is a school structure, office building, retail centre, place of worship, industrial warehouse, or personal residence.
 ONE ENTHUSIAST'S TILT-UP HOUSE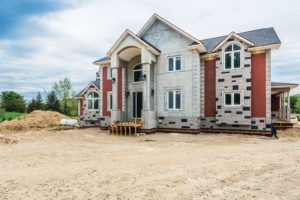 Last spring, Len Overbeek, co-founder of Tilt Wall Ontario, built a multistorey tilt-up house in Oxford County, where he now lives with his wife and children.From the outside, the 269-m2 (2900-sf) home is indistinguishable from a conventionally built residence. Inside, Overbeek incorporated several unique design elements including stamped and polished concrete. The front entrance hall features a painted finish that looks like marble."Living here, you cannot tell it is a concrete home. The walls I painted look just like drywall," said Overbeek.

Although the cost of a tilt-up home is around 10 to 15 per cent higher than a traditional build, Overbeek said the thermal mass of concrete and the home's continuous insulation provide energy savings of around 30 per cent.

Lot size is one constraint to residential tilt-up construction, he explained, so the method is best-suited for custom homes rather than single-family suburban residences.

"Since I started working with tilt-up, I always thought that this is how I would love to build a home someday. Knowing the energy-efficiency, durability, and flexibility of concrete, there really was no other alternative for me," he said.
Nicole Laidler has more than14 years of experience writing for a wide range of publications for corporate and nonprofit clients. Laidler holds an MA in journalism from Western University and is a member of the Canadian Association of Journalists and the International Association of Business Communicators. She lives in London, Ont., and can be reached at nicole@spilledink.ca.

Control the content you see on ConstructionCanada.net!
Learn More.