By Dritan Topuzi, PhD, P.Eng., PMP, LEED AP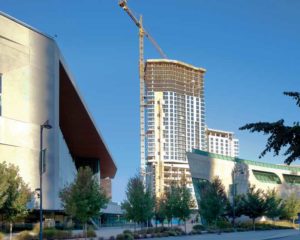 At 52 storeys, 3 Civic Plaza is the third tallest building in British Columbia, and an anchor to the fastest growing metro centre in the province. It houses a luxury hotel, an urban campus for Kwantlen Polytechnic University (KPU), meeting rooms, a state-of-the-art fitness centre, a rooftop garden, and 348 residential condominium units, all accessed by an expansive central lobby linking the building's many uses.
The design team, consisting of ZGF Cotter Architects, Fast + Epp structural engineers, and ITC Construction Group, was charged with "envisioning the civic plaza of the future, and determining a mix of uses appropriate to the existing city centre, while predicting and successfully responding to future requirements."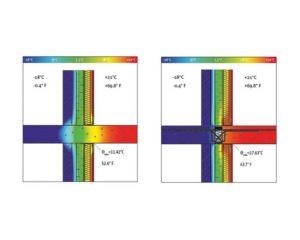 According to the architectural firm, the challenge was creating a cohesive design for structurally different uses. The solution comprised an external concrete shear wall, as opposed to the traditional concrete core, which provided more flexibility in designing the interior spaces, and more visual interest with the distinctive, guitar pick-shaped window openings marching down the façade.
Sustainable strategies for occupant comfort include in-slab radiant heating and natural ventilation systems relying on pressure differences between indoor and outside air to refresh the building without depending solely on mechanical systems. Close attention was paid to energy-saving measures at the building envelope to minimize costs and carbon footprint. Copious amounts of insulation were applied on the walls, roof, and other areas. Mineral wool was placed in the window wall assemblies. Foamed plastic insulation was sprayed on the cast-in-place concrete exterior walls. Foamed plastic insulation board was applied at the roofs, and cellulose insulation was sprayed at the slab soffits under occupied space in the underground parking area.
However, the 37 floors of condominium balconies presented a potential thermal bridging problem. If cast conventionally as cantilevered extensions of interior floor slabs, balconies would conduct heat away from interiors and dissipate it into cold environments like cooling fins, thereby wasting heat energy. Chilled floor slabs inside of the building envelope would cause discomfort for occupants. Condensation on cold adjacent interior surfaces would support mould growth, an increasing problem in today's airtight, high-humidity buildings.
The design team studied options to prevent thermal bridging at the balconies, and ultimately decided to insulate them from the supporting slab by using structural thermal breaks.
Evaluating design options
The team had originally envisioned precast concrete balcony slabs extending from the sides of the building, but thermal isolation was needed to retain the energy indoors and not lose it through conduction to the exposed balcony slab.

Control the content you see on ConstructionCanada.net!
Learn More.