Avoiding waterproofing errors in showers
by arslan_ahmed | October 25, 2022 10:00 am
By Matt Valore and Erin Bullock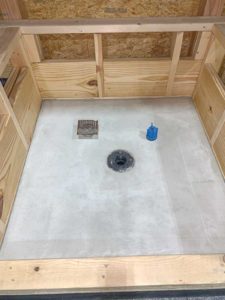 The Ontario Building Code states shower receptors should be constructed and arranged so water cannot leak through the walls or floor. The National Plumbing Code of Canada details the use of leak proofing material in showers, but not much else is stated regarding the construction of showers.
However, the Tile Council of North America (TCNA) bridges that gap with the TCNA Handbook for ceramic, glass, and natural stone tile installation. The TCNA establishes the American National Standards Institute (ANSI) standards used for tile installation in showers through a consensus process. It involves manufacturers of tile and tile installation products, and these recommendations are compiled in the TCNA Handbook. The handbook is a source for tile specifiers and installing contractors, and details shower receptors, including limitations, membrane options, materials, and installation specifications.
When it comes to shower installation and waterproofing, taking shortcuts can lead to disastrous results, especially when a floor is not properly sloped and/or a waterproofing membrane is carelessly installed. To avoid these issues, construction professionals should have a higher level of knowledge of waterproofing techniques and how they can accommodate jobsite variabilities.
This article highlights common installation and waterproofing mistakes which heighten the probability of shower system failures.
Adequate structural support of subfloor
Shower failures can stem from many different issues. First and foremost, when constructing a shower, whether using a preformed pan or a mortar bed, be sure the subfloor is free of defects as per TCNA guidelines. Any movement in the shower system because of an unstable substrate will most likely result in failure. A waterproofing membrane is only effective when properly supported.
Subflooring needs to be provided beneath a floor finish, where the finish does not have adequate strength to support the design loads.
Understanding the difference between waterproof and water-resistant wallboard
Another common issue is improper use of wallboard for the application. Many installers use wallboards, which are water durable but not waterproof. A water durable product or material can withstand water penetration to some degree but not entirely, whereas a waterproof product or material is impervious to water.
TCNA states, "A waterproof membrane or vapor retarder membrane must be specified to prevent moisture intrusion and protect adjacent building materials."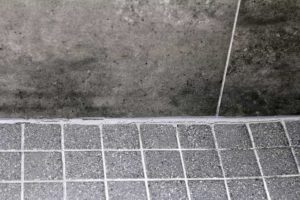 Installing the correct type of wallboard behind the tile is important, especially considering all the moisture the wall will have to endure over time. Inevitably, steam and water will penetrate through grout joints and porous tile materials. Routine sealing of a shower system will help minimize water penetration.
In addition, if the board is not waterproof, water vapour and moisture will cause damage to surrounding structures through mould and mildew growth. This damage can cause rotting of structural members and costly repairs.
Failure to protect weep holes
The most important part of any tiled shower system is the evacuation of weep water (i.e. water that collects below the tile). For a traditional liner install, polyvinyl chloride (PVC), chlorinated polyethylene (CPE), or hot-mop, the subfloor below the liner must be counter pitched to a subdrain.
This sloped mortar bed will be flush with the top edge of the two-piece clamp collar base which will allow the weep water to flow freely to the integrated weep holes.
Whether it is a traditional or topical waterproofed system, weep holes are a vital part of any shower system, and they integrate into clamp collar drains as well.
Weep holes also play an important role in evacuating water wicking through the grout or cracks between the horizontal and vertical wall transitions. Installers can utilize weep guards or pea gravel around the drain barrel to ensure the holes do not get clogged. To avoid closing off the drainage, installers should not apply mortar or thin-set to weep holes. When installing the drain clamping ring, ensure the holes are clear of any residual pan liner or silicone. TCNA B414 requirements state, "surround drain with pea gravel or other weep protection to prevent mortar from blocking weep holes."
Pre-sloping before waterproofing
Many installers make the mistake of not pre-sloping before installing the waterproofing layer or leaving the weep holes in the drain base unprotected, resulting in water's inability to evacuate through them. This over saturation, in time, causes deterioration of the thin-set below the tile or mortar bed. Likewise, it can also cause mould and mildew in the shower, creating a foul odour and discolouration.
All products in the installation work must together as a complete system. Some shower drain systems offer easier installation, for example, a linear drain requires a slope in only one direction, compared to a conventional four-way compound slope, which requires multiple centre-point drains. The single pitch of a linear drain improves drainage because it gives water one uniform path to the drain, minimizing installation errors and hazardous standing water (which can leave stains). Installers must always follow manufacturer recommendations for mortar bed and liquid-applied waterproofing product applications.
Improper liner installation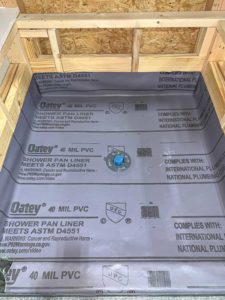 The National Plumbing Code of Canada (NPC), A-7.2.2.3 showers states, "the use of leak proofing materials such as lead sheet, rubber or plastic membrane, and polyethylene sheet with fleece webbing must cover the entire interior area. The leak proofing material must extend up enclosing walls above the height of the waste opening or the enclosing step by at least 100 mm [3.9 in.]."
Many of the shower receptor details in TCNA B412 note how waterproof membranes used in the installation of tile must meet the requirements of the American National Standards Institute (ANSI). ANSI A118.10, Load Bearing, Bonded, Waterproof Membranes for Thin-set Ceramic Tile and Dimension Stone Installation, specifies the requirements for a "load bearing, bonded, waterproofing membrane for thin-set tile and dimension." The requirements apply to "trowel applied, liquid and sheet membranes." This standard prescribes requirements to assure the membrane is waterproof and has the strength to hold up overtime.
Traditional shower floors incorporate a liner as a waterproof membrane between the pre-pitch and mortar bed. Once again, it is imperative for the liner to not interfere with the drain's weep holes to ensure unimpeded drainage.
Many installers incorrectly cut the corners of the liner and then try to use pipe cement to bond it. TCNA and manufacturer instructions are to fold the shower pan liners in the corners. However, when it is necessary to cut the liner such as for outside corners and curbs, best practices suggest using dam corners to waterproof these areas.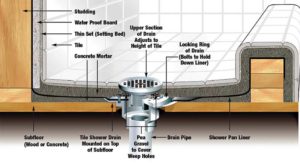 PVC dam corners are preformed corners designed to seal the junction of the curb and door jamb where installers use a flexible liner membrane for a traditional tiled shower.
Penetrating the waterproof membrane or liner is another common error potentially leading to shower failure. Water will migrate through any holes, reaching the framing and surfaces behind it. When attaching cement board to walls and curbs, nails or screws lower than 100 mm (4 in.) above the flood rim or the top of the curb should not be used.
It is imperative to follow the manufacturer's installation instructions for all waterproofing products to ensure the product has the proper coverage, particularly with topical liquid waterproofing, or elastomeric waterproofing. The use of a wet film thickness gauge is best for correct dry coverage.
Failure to perform a flood test
Another critically required step to avoid issues with shower installation is flood testing. It is the best way to discover a leak before installation. A flood test can be done by first inserting a pneumatic or mechanical test plug in the drain. Next, the shower needs to be filled to just below the flood level or slightly below the curb for a minimum testing time of four hours. Installers should find the local code jurisdiction for appropriate testing requirements and then check for leaks and repair and retest the liner until the installation is leak-free.
Conclusion
Aside from deterioration over time and failing to flood test showers before tile installation, most shower failures today are in traditional mortar bed installations. Mortar installation allows more room for error and potential damage to the substrate, while newer pre-sloped pans eliminate common human errors in accomplishing a proper, two per cent pitch. In addition, topical waterproofing (liquid or fabric) minimizes the water buildup which can degenerate the pre-slope below. Refer to the TTMAC Handbook for recommended systems and follow manufacturer's literature for instructions and cautions.
Authors

[5]Matt Valore is technical applications specialist at QuickDrain USA (part of the Oatey family of brands).

[6]Erin Bullock is the applications manager at Oatey Company. Bullock can be reached at technical@oatey.com.
Endnotes:
[Image]: https://www.constructioncanada.net/wp-content/uploads/2022/10/IMG_0319.jpg
[Image]: https://www.constructioncanada.net/wp-content/uploads/2022/10/bigstock-177885208.jpg
[Image]: https://www.constructioncanada.net/wp-content/uploads/2022/10/IMG_0321.jpg
[Image]: https://www.constructioncanada.net/wp-content/uploads/2022/10/Lead-in.jpg
[Image]: https://www.constructioncanada.net/wp-content/uploads/2022/10/AA_Matt_Valore.jpg
[Image]: https://www.constructioncanada.net/wp-content/uploads/2022/10/AA_Bullock_headshot.jpg
Source URL: https://www.constructioncanada.net/avoiding-waterproofing-mistakes-in-showers/
---