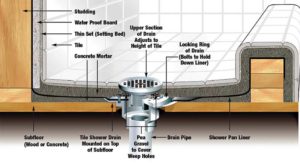 PVC dam corners are preformed corners designed to seal the junction of the curb and door jamb where installers use a flexible liner membrane for a traditional tiled shower.
Penetrating the waterproof membrane or liner is another common error potentially leading to shower failure. Water will migrate through any holes, reaching the framing and surfaces behind it. When attaching cement board to walls and curbs, nails or screws lower than 100 mm (4 in.) above the flood rim or the top of the curb should not be used.
It is imperative to follow the manufacturer's installation instructions for all waterproofing products to ensure the product has the proper coverage, particularly with topical liquid waterproofing, or elastomeric waterproofing. The use of a wet film thickness gauge is best for correct dry coverage.
Failure to perform a flood test
Another critically required step to avoid issues with shower installation is flood testing. It is the best way to discover a leak before installation. A flood test can be done by first inserting a pneumatic or mechanical test plug in the drain. Next, the shower needs to be filled to just below the flood level or slightly below the curb for a minimum testing time of four hours. Installers should find the local code jurisdiction for appropriate testing requirements and then check for leaks and repair and retest the liner until the installation is leak-free.
Conclusion
Aside from deterioration over time and failing to flood test showers before tile installation, most shower failures today are in traditional mortar bed installations. Mortar installation allows more room for error and potential damage to the substrate, while newer pre-sloped pans eliminate common human errors in accomplishing a proper, two per cent pitch. In addition, topical waterproofing (liquid or fabric) minimizes the water buildup which can degenerate the pre-slope below. Refer to the TTMAC Handbook for recommended systems and follow manufacturer's literature for instructions and cautions.
Authors

Matt Valore is technical applications specialist at QuickDrain USA (part of the Oatey family of brands).

Erin Bullock is the applications manager at Oatey Company. Bullock can be reached at technical@oatey.com.

Control the content you see on ConstructionCanada.net!
Learn More.