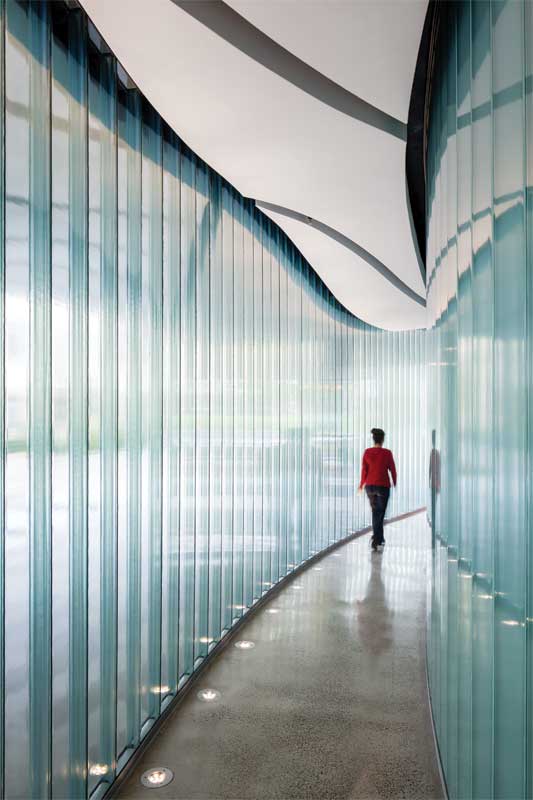 Improperly sealing the glazing
Since there are numerous glass joints in a given channel glass assembly, a potential pitfall is omitting sealant joints either by accident or by design to save on costs or achieve a specific look.
For example, when designing exterior channel glass walls, it is common practice to try to leave out the sealant on the interior side of wall (Figure 7). However, on exterior channel glass walls, it is essential to seal every glass-to-glass joint and every glass-to-framing joint, both inside and out. Failure to do so will draw warm air and dust into the system on cold days, resulting in condensation trapped within the mounted channel glass cavity. The condensation will then collect, streak down, and leave marks on the inside of the glass. Additionally, bugs may penetrate any unsealed openings. These undesirable conditions form a long-term maintenance problem, since it is not possible to clean the interior cavity without removing one side of the glass.
Similarly, for interior channel glass partition walls, design teams may try to eliminate the glass sealant altogether. However, true interior channel glass elevations also need to be sealed. At a minimum, sealant must be located at channel glass head and sill connection points. Unsealed channel glass will move, rattle, or whistle, often from HVAC. This can cause breakage from glass-to-glass contact. It may also compromise the integrity of the channel glass edges, causing it to break if someone pushes along the glass planks with enough force, as may occur from a person falling.
Staggered, overlapping single-glazed applications may not require sealant at each joint. Glazing tape may also be used in some situations in lieu of silicone sealant. Typically, this tradeoff occurs in areas that are not accessible to seal and therefore not seen by the public. To confirm sealant practices in these instances, it is best to check with the manufacturer or supplier.
Perimeter sealants are usually high-performing silicones, which allow for movement of the building and frame system. Sealant manufacturers typically provide adhesion tests and input on appropriate joint sizing. Glass-to-glass joints are generally sealed with a translucent, one-part moisture-curing silicone.
Overlooking transitions between conditioned and unconditioned spaces
Occasionally, channel glass designs will take an exterior dual-glazed wall from its dual-conditioned space (fully inside the building) and either carry it further into a fully conditioned interior space, or fully out into an exterior unconditioned space (facing the elements).
Design teams typically assume this is done via a continuous uninterrupted channel glass assembly; however, the head and sill frames must be separate and spliced together. This creates two independent frame systems. Specifically, a glass isolation joint at the splice is required, creating two distinct cavities of space—exterior from interior. The result can minimize thermal bridging, while also giving the illusion the glass continues seamlessly from the inside to the outside.
Not accounting for sufficient lead time
Custom channel glass segments take time to produce. While many manufacturers and suppliers have efficient production and distribution systems, building these materials into the project schedule as if they were an off-the-shelf item is a formula for project delays.
To hit project construction schedules—particularly for channel glass assemblies with planks in various widths, lengths, or custom cuts—it is essential for builders to talk with manufacturers or suppliers early during the project construction phase or, if possible, design phase. They can confirm opening sizes and glass dimensions, providing a realistic material lead time frame to help keep the project on schedule.
Ignoring maintenance needs
As with any material, it is important to design channel glass assemblies in such a way that routine annual maintenance, such as cleaning and perimeter joint inspections, can be done. Asking the following questions in the specification process can help ensure the design does not compromise maintenance needs:
Is the channel glass completely sealed to ensure the interior glazing cavity is protected?
Can cleaners access the channel glass assembly, both inside and outside?
Are stock materials in place in case of breakage? (When a piece of channel glass is broken, it must be replaced sooner rather than later. Replacements ordered in small quantities are expensive and time-consuming to receive.)
Is the channel glass assembly in a coastal region where
high winds and windborne debris may necessitate more frequent cleaning?
Is the channel glass assembly in a harsh environment that may require more frequent cleaning or inspections, like a parking garage or industrial area?
Conclusion
As architect Louis Kahn once said, "A great building must begin with the unmeasurable, must go through measurable means when it is being designed, and in the end must be unmeasurable." When channel glass systems are appropriately designed and specified, their versatile, artistic form can help architects make this statement a reality.
Jeff Razwick is the president of Technical Glass Products (TGP), a supplier of fire-rated glass and framing systems and other specialty architectural glazing. He writes frequently about the design and specification of glazing for institutional and commercial buildings, and is a past chair of the Glass Association of North America's (GANA) Fire-rated Glazing Council (FRGC). Razwick can be reached via e-mail at jeffr@fireglass.com.

Control the content you see on ConstructionCanada.net!
Learn More.