Silicone-glazed, fire-rated curtain wall systems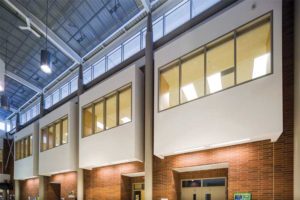 These systems go a step beyond standard curtain wall offerings, making it possible to create dramatic spans of fire-rated glass with clean sightlines and produce the popular frame-free look. One available assembly achieves this functionality by using fire-resistive-rated glass that is attached to narrow, fire-rated, steel frames with a toggle retention system becoming completely hidden once installed.
Daylighting benefit
Allows for large spans of fire-rated glazing with minimal frame profiles and clean sightlines, resulting in unobstructed daylight transfer.
Butt-glazed fire-rated systems
These interior-only glazing systems get their visual continuity from using fire-resistive-rated glass wall panels that are butt-glazed using silicone sealant. The panels are then secured in place with a heat-resistive perimeter frame.
Daylighting benefit
Allows design professionals to create continuous fire-rated glazed walls with nearly colourless transitions between glass panels for greater vision, transparency, and light transfer through hallways.
Fire-rated glass floor systems
Further, fire-rated glass floor systems have the ability to provide a code-approved barrier between the various building levels and can support structural loads while defending against the spread of fire.
Daylighting benefit
Allows daylight to be shared between floors while providing critical compartmentation in open, lofty interiors in commercial buildings.
Making the most of fire-rated glass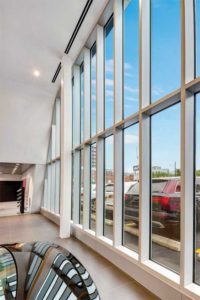 There are numerous ways design professionals can use fire-rated glazing to support occupant well-being while providing protection from the threat of fire. To maximize the material's full potential in commercial applications, one should consider the following tips.
Create transparent compartmentation
Fire-rated glazing products can offer transparent compartmentation. They can provide the necessary sub-division of space and reduce an area's overall volume while creating an open, light-filled esthetic (see "KMK Place, St. John's").  This is true in modern design as the absence of compartmentation in large, shared spaces provides an opportunity for faster fire growth due to greater air volumes.
Orient for light transfer
According to the Daylighting Guide for Canadian Commercial Buildings, the majority of Canada's population lives near latitude 46 degrees. At this latitude, it is possible for interior spaces to receive 15 times more illumination than required to perform indoor tasks—even under overcast skies.
Fire-rated glazing is well-suited to take advantage of the region's available sunlight and maximize its transfer throughout buildings. More specifically, due to the increase in fire-resistive glazing systems with the ability to meet the temperature-rise criteria, project teams can now align expansive fire-rated glazing assemblies in a range of settings to draw light into a building's core.
Since it is up to the building team to ensure the product is oriented in such a way as to maximize light penetration, considerations include whether or not it is possible to:
use floor-to-ceiling, fire-rated transparent wall panels with narrow fire-rated framing to improve sightlines and increase daylight transfer;
incorporate full-lite, fire-rated glass in doors;
install fire-rated curtain walls in spaces that are hard-to-illuminate such as stairwells;
install non-slip, fire-rated glazed floor systems beneath skylights, allowing natural light to pass down into rooms that are otherwise cut off from sunlight; and
incorporate exterior fire-rated glazing systems to provide lot-line defence and improve light transfer along the perimeter.
Fire-rated glazing can also help restore light transfer in renovations. Many existing structures rely on traditional, opaque building materials to provide fire protection. While functional, these materials often create dark and poorly lit interiors. By employing fire-rated glass to change these solid walls into clear ones, design teams can open up light-restricted areas while maintaining code compliance.
As with any project, daylighting needs vary by building type, occupancy, and owner goals. Lighting levels can be modelled through simulation methods to test and help predict all requirements are met.

Control the content you see on ConstructionCanada.net!
Learn More.