Promote views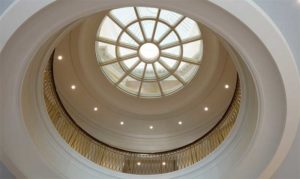 Modern fire-rated glazing can also be employed to enhance visual connectivity and preserve views to the outside in areas where there is a code requirement to provide fire protection. These benefits are proving to be increasingly valuable to occupant well-being as a growing number of reports state Canadians now spend more time indoors than out. Consider a recent Nature Conservancy of Canada report that noted three-quarters of its survey respondents "found it much easier to stay inside." Many participants pointed to Canada's rain, snow, and extreme weather conditions as deterrents to spending time outside.
While the transparent form of fire-rated glass supports visual connectivity, its benefits are further realized in products with a nearly distortion-free viewing surface. For example, fire-protective glazing products, such as fire-rated glass ceramic, can be ground and polished on both sides. This process results in glass with a smooth surface finish and high visible light transmission. Fire-resistive glass products are also available with exceptional clarity. One product on the market is comprised of layers of nearly colourless, wireless, low-iron float glass and clear intumescent interlayers. It emulates the look of ordinary float glass and allows for large, clear viewing areas in locations subject to strict fire-rated criteria by code. New product offerings, such as butt-glazed fire-rated systems, are also available to better promote views between spaces. The aforementioned system achieves a frameless look by using fire-resistive-rated glass wall panels that are butt-glazed using silicone sealant. The panels are then secured in place with a heat-resistive perimeter frame. With narrow butt-glazed joints and a predominant glass presence, it allows for exceptional transparency, clean sightlines, and purity of view.
Balance occupant comfort
As Chris Meek, director of the University of Washington's (UW's) Integrated Design Lab (IDL), explains it, the occupant experience is actually about comfort.
"Buildings either do the work of providing comfort or discomfort for the people inside them," he explained, "which is why it is so important to create buildings that are centred on the needs of their occupants."
Fire-rated glazing is no different than any other glazing material in that it must transfer light in the occupant-centred manner Meek addresses. Unbalanced natural light distribution can diminish workplace productivity, lead to excessive heat gain or loss, and increase electrical lighting loads.
While many facets of daylighting design affect occupant comfort, the following fire-rated glazing strategies can help teams achieve success:
use fire-rated insulated glass units (IGUs) incorporating tinted or low-emissivity (low-e) glass for more efficient solar energy management;
lightly sandblast fire-rated glass to diffuse light if privacy and light transfer are both desirable;
employ fire-rated steel frames with a thermal conductivity of approximately 31 Btu per hour (about 74 per cent less than aluminum) and help reduce the potential for heat gain and loss between the glass and frames; and
simulate the actual construction to give the designer insight on how the fire-rated glazing system will affect the sizing of the building's HVAC systems.
KMK Place, St. John's
When developer KMK Capital was tasked with planning the four-storey, 7342-m2 (80,000-sf) office building in St. John's, it had the following design goals:
create a unique look to stand out from nearby traditional buildings; and
design an open floor plan to provide daylighting and a smooth flow through the building structure.
To satisfy these design demands, Gibbons + Snow Architects desired a glass-filled atrium providing a focal point both inside and outside the building. It would also allow for light to be carried through multiple interior spaces.
In accordance with the National Building Code of Canada (NBC) and local regulations, the atrium needed to incorporate fire-resistive materials to provide safe passage for people exiting in the event of an emergency. To preserve the open floor plan and help bring daylight deep into the building, the firm turned to a two-hour fire-rated glass and framing system.
The selected system's narrow frame profiles and large spans of fire-rated glazing separate the main building from the glass atrium across all four floors, preserving daylight and views for occupants. The Underwriters Laboratories Canada (ULC)- and Underwriters Laboratories (UL)-classified system provides a barrier to radiant and conductive heat transfer and incorporates fire-rated doors for a complete entrance solution. Additionally, smoke baffles were required and installed for fire and life safety.
"It is not too often you will see an atrium of this calibre in office buildings," said Sandy Gibbons, the project's architect. "We needed a specialty product meeting certain needs like replacing solid walls and creating an open space, while not forcing us to compromise on esthetic."
From floors to curtain walls, building and design teams can employ  fire-rated glass in a number of configurations to marry form with function and create interiors occupants can enjoy.
Moving forward
Before capitalizing on the daylighting and design benefits of fire-rated glass, questions about cost may arise. The specialty material does have a higher price point when compared to opaque fire-rated building assemblies. However, the good news is, today's wide range of fire-rated glazing materials often makes it possible to find a solution in line with architectural construction costs.
It is also important to keep in mind the amount of fire-rated glazing used in many projects is relatively small. Further, with many commercial buildings designed to last 30 years or more, there is adequate time to amortize its cost and reap the product's full benefits.
If cost concerns remain, manufacturers and suppliers can assist in helping the design professionals and building owner understand what life safety and performance benefits they are purchasing.
Conclusion
According to the 2016 Census, there are approximately 35.1 million people living in Canada. Providing fire- and life-safety protection for these individuals is critical. So too is daylight. With proper use, fire-rated glazing can help bridge the gap between these two important needs.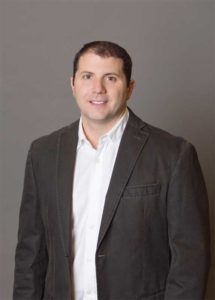 David Vermeulen is the national sales manager for Technical Glass Products (TGP), a supplier of fire-rated glass and framing systems and other specialty architectural glazing. TGP works closely with architects, designers, and other building professionals, providing them with state-of-the-art products, service, and support to maximize design esthetics and safety in commercial and institutional buildings around the world. Vermeulen can be reached at davidv@fireglass.com.

Control the content you see on ConstructionCanada.net!
Learn More.