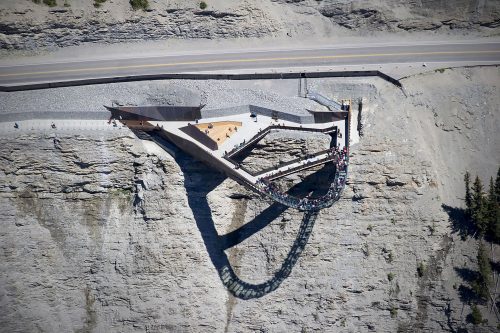 The Royal Architectural Institute of Canada (RAIC) and the Canada Council for the Arts announced the recipients of the 2016 Governor General's Medals in Architecture.
For the biennial award, 12 projects across the country were selected by a jury of industry professionals. The projects reflect connection, revitalization, and experimentation.
The Glacier Skywalk, designed by Sturgess Architecture, was one of the winners. The walkway is a manmade extension of the landscape in Alberta's Jasper National Park, 280 m (919 ft) above a valley. It uses geometric and material forms to empower visitors to immerse themselves in the natural environment. Rugged architecture provides contrast between the subtle gesture and monumental ideas that define the skywalk experience. The structure consists of steel, glass, wood, and stone. Gabion mats of locally mined stone retain the pathway and wood lines the areas where people walk.
The University of Manitoba's ArtLab, designed by Patkau Architects and LM Architecture Group, was another winner. Located in Winnipeg, the 585-m² (6300-sf) building consists of large spaces for the School of Art that complement small studio spaces within Taché Hall, including a national gallery, lecture hall, soundstage, administration, and new and traditional media studios. Large V-shaped columns animate the covered outdoor space to create a lively courtyard showcasing both historical and contemporary campus buildings. The exterior juxtaposes modern construction with the historic masonry of Taché Hall, which was built in 1911.
Fowler Bauld and Mitchell designed the Halifax Central Library, which also won a Governor General award. The 15,000-m² (161,459-sf) facility was designed through a series of highly participative public consultations and focus group sessions. It includes a 300-seat performance space, music studios, a First Nations Circle, a vegetated roof, and rainwater collection. It is composed of three vertically stacked glass volumes topped by a monumental glass cantilever. Each volume is rotated to embrace views of the ocean and city landmarks. Floor-to-ceiling glass panels on the north and south façades admit diffused daylight into reading spaces and facilitate solar heating.
"Architecture is at once a construction, a footprint in time, a structural innovation, and an esthetic vision," said Simon Brault, CEO of the Canada Council for the Arts. "It expresses and shapes our culture and ways of living together. The winning projects of 2016 are outstanding interpretations of our lifestyles and collective aspirations."
For a full list of winners, click here.