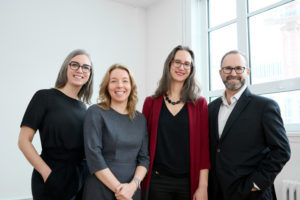 EVOQ Architecture has appointed as directors long tenured and highly experienced employees, Lena Buchinger, Carolyne Fontaine, Roxanne Gauthier, and Eric Stein, well-acquainted with its values and culture, to steer the firm's future.
Lena Buchinger (OAQ CAHP APT)
Buchinger, who joined EVOQ in 2006, is known for her comprehensive and holistic understanding of each building's history and construction systems and grasp of stakeholder concerns. She is actively involved in both the architectural and the built-heritage conservation communities. She has served on the Planning Advisory Committee (Comité consultatif d'urbanisme) for Montreal's southwest borough since 2013 and has been active in the Association for Preservation Technologies (APT), including a term as vice-president in 2021, and co-chair of the publications committee.
Carolyne Fontaine (OAQ LEED AP)
Fontaine, who joined EVOQ in 2009 as a manager, is as comfortable designing and presenting projects and concepts as she is managing them and overseeing their construction. She has always been driven to design architecture respectful of its context and the environment. Fontaine sits on the board of the Ordre des architectes du Québec (OAQ) as well as Architecture without Borders Québec, reflective of her commitment to her profession, peers, and community.
Roxanne Gauthier (OAQ, LEED GA.)
Gauthier has been working with First Nations and Inuit communities for most of her career. She is known for her leadership, planning, and project management skills allowing her to advance key projects for the communities she works with. She founded and leads EVOQ's Sustainable Development Committee.
Eric Stein (OAQ PMP CAHP APT)
Stein, who joined EVOQ in 2001, for the past two decades, has played leading roles in numerous institutional, commercial, and residential projects as a project manager, designer, and site architect. He specializes in rehabilitation and heritage conservation. His knowledge and attention to detail in the restoration of metalwork, woodwork, and masonry, as well as his numerous collaborations with internationally renowned experts, have all contributed to his portfolio of award-winning projects.