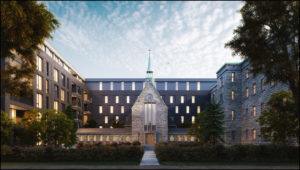 A project in Montreal's Outremont neighbourhood will transform a historic chapel into a condominium development, for the historic preservation and reactivation of the underutilized site.
The project, called La Chapelle, is the result of a three-year-long reflection aiming to achieve integration with the location's heritage and surrounding urban fabric. The city of Montreal awarded the bid for the project to ACDF Architects, among numerous applications. Montreal-based real estate company, Demonfort, is the developer and general contractor for this 78-unit condominium project. The architect and historian, Mario Brodeur of Brodeur Consultants, has also collaborated in the design of the project.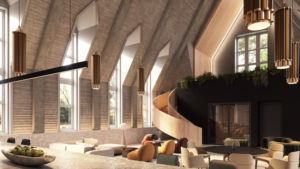 The design will harmonize old and new architecture with a current yet timeless appeal. The project's guiding principles include refined design features and workmanship, top-quality materials, including brick, natural stone, wood, glass, and aluminum, and uniquely designed common areas to further enrich the living environment.
Located on Querbes Avenue, in the heart of Outremont, La Chapelle is a short distance from Saint-Viateur Park, Théâtre Outremont, and many of the neighbourhood's finest restaurants and shops.
"Every effort will be made to preserve the site's architectural splendour and historical character, including preserving the heritage, building's classic shape, and interior," says Florent Moser, cofounder of Demonfort.