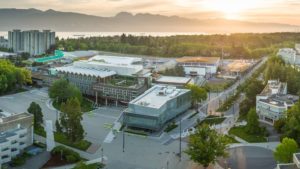 Hotson Architecture and Ryder Architecture in association have been selected to design a new student residence building on Student Union Boulevard at the University of British Columbia (UBC) Point Grey campus, Vancouver.
The new $108-million residence will provide 1000 beds for upper year students, and contribute to the rejuvenation of the intersection at the northwest corner of Wesbrook Mall and Student Union Boulevard. This area includes existing student service areas, student residences, and a large mixed-used academic/student housing hub.
"The intent is to allow for the creation of new academic and social spaces that will contribute to a complete community on campus for people to live, work, learn and play," explains Norm Hotson of Hotson Architecture.
The residence will consist of a number of buildings, totalling an area of approximately 36,697 m2 (395,000 sf). The project is to break ground in the spring of 2019 with a targeted opening date of 2021. UBC Properties Trust is developing the site on behalf of Student Housing and Hospitality Services (SHHS).
"As a team, we are driven to maximize efficiencies and value, including designing for regenerative sustainability," says Adam James, principal, Ryder Architecture. "By employing digital processes, such as building information modelling (BIM), we will meet the project's objectives through the optimization of process, the use of less materials and energy, while achieving a cohesive architecture."