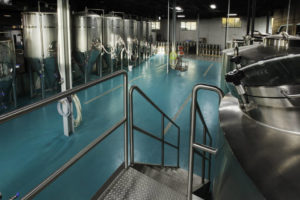 by Kendall Youngworth
The first step in the proper repair of a damaged concrete floor is a professional evaluation of the surface to identify the cause. This article specifically applies to repairing a concrete slab-on-grade, where the concrete slab is part of the structure's foundation; this is not to be confused with suspended structural slabs, which would require a structural engineer to review slab conditions and recommend the best method for repair.
Early intervention matters
If the concrete floor is deteriorating, it is better to act early and repair it. Concrete can quickly erode once the surface is initially impaired. What could have been a minor repair can suddenly become a far more serious and costly situation. It is advisable to seek immediate remedies as soon as concrete flooring damage is noticed.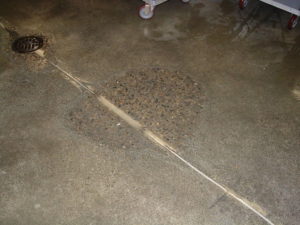 While full floor repair and resurfacing may sound daunting or raise concerns about the impact on production, today's fast-cure epoxy and resin floor coating systems can greatly speed up the refurbishment process and minimize interruptions to daily activities. Alternatives exist to accommodate busy facility schedules, including installing only one cordoned-off area at a time and allowing other parts of the facility to continue business as usual. A well-selected and professionally refurbished concrete floor can often perform better than the original surface and should withstand the demands of the operation for many years to come.
Various usage issues can heavily impact the integrity of concrete floors including:
exposure to chemicals;
presence of moisture;
vibration produced by stationary equipment;
movement of heavy loads;
abrasion; and
foot, cart, and forklift traffic.
Other causes of concrete erosion, such as slab movement or deterioration associated with improperly installed joints, may prove to be more serious. In some cases, a combination of issues can lead to worrisome damage. For a concrete surface to be fully repaired and refurbished, the slab should be confirmed to be of structurally sound condition by a qualified flooring professional.
Replace vs. repair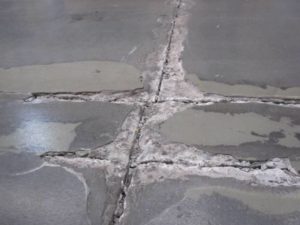 Replacing the concrete slab is not always a guarantee against future damage because the factors causing the initial injury may still be in play. A correctly installed new slab can begin to show signs of erosion within a few years when exposed to the same stresses unless the cause is corrected. Application of a customized, highly durable liquid coating system after repair or replacement can help preserve the concrete slab. Over time, the savings can be significant because a properly protected concrete surface has the best chance of performing as designed. Additionally, the cleaning of fluid-applied floor systems can be economical, and with simple care, the original finish and appearance can be maintained over the long term with no need for complex custodial procedures.
Concrete repair costs
The cost of repair is always a concern, so one can consider a variety of options including:
evaluating the condition of the existing floor—including surface defects and underlying structural problems—to determine if replacement or repair is necessary;
ensuring any existing damage is repaired correctly to maintain floor longevity;
assessing the financial impact associated with halted production during repair;
evaluating the cost of the repair and available funds;
identifying a qualified concrete flooring installation company; and
taking the correct steps to protect the floor against future damage and associated projected costs.
 Step one of repair
The type of repair needed can vary based on the extent of damage. A professional repair of cracks and/or floor joints, and installation of patching material in eroded areas may be necessary before advancing to the next step in floor refurbishment. Once the initial damage is mended, a resurfacing treatment can be applied to preserve and maintain the concrete substrate for the long term.
Types of resurfacing treatments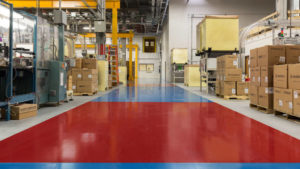 A wide range of concrete floor resurfacing products are available, and every facility has specific needs in terms of function, safety, and esthetics. The type of product or system, as well as the method of application, should be customized to help ensure the new traffic surface performs as designed for the duration of its expected usable life. Depending on the type of facility operation, typical usage, and site conditions, various characteristics can be part of a custom floor resurfacing solution, including:
moisture tolerance;
moisture vapour transmission mitigation;
flexibility and tolerance for ongoing movement or vibration;
ability to withstand thermal shock and temperature cycling;
resistance to acids or alkalis, chemicals, and/or solvents;
extra abrasion resistance; and
slip-inhibiting properties.
Concrete floor cracks
Various types of cracks can occur in a concrete floor, even in locations not subjected to heavy loads, dropped tools, chemicals, moisture, and other concrete-damaging stresses. The types of cracks often appearing in a concrete floor include:
crazing: appearing as a web of shallow cracks on the surface of the concrete;
hairline cracks: deep, thin cracks;
scaling: pocked surface exposing the aggregate beneath;
pop-outs: sections expand and pop out of the surface;
spalling: surface depressions, typically linear along the rebar;
d-cracking: associated with water infiltration at the floor joint;
offset cracking: floor is lower on one side of crack;
diagonal cracking: cracks along joints at corner of slab; and
plastic shrinkage cracks: appearing on the horizontal surface, formed before the bond is developed between aggregate and mortar.
Concrete floor protection at its best
It makes sense to protect the concrete floor with a custom fluid-applied resurfacing product instead of merely patching damaged areas. Resurfacing the slab can do far more than resolve existing damage. Protecting the surface thoroughly has numerous benefits, including:
 Helping protect the concrete integrity
The substrate can now have improved resistance to impact, chemicals, heavy loads, and other stresses.
 Customized systems and decorative finishes
The systems can be customized to suit the demands of the facility. One can also add colours, different textures, the appearance of a faux concrete stain, or choose from a variety of finishes suitable for a specific facility area.
Option to delineate usage areas
Walkways and restricted areas for employee and visitor safety can be created.
Easy to clean and maintain
Waxing or other complex cleaning procedures are not needed.
Waterproof
Waterproofing underlayments can protect lower levels from wet areas above.
Hygienic
Microbes and bacteria can flourish in cracks and grout lines so a monolithic surface helps improve sanitation.
Cost-effective
It can be less costly than concrete replacement or other specialized floorcoverings.
Selecting concrete coating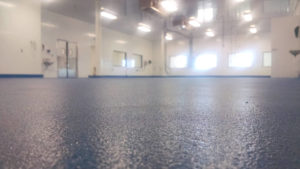 Untreated concrete is porous and can be prone to damage if left uncoated. With the broad spectrum of systems in today's market, it can be difficult to determine the most appropriate type of coating for a specific project. For best results, a professional resinous flooring installer will consider many factors, including:
The facility's performance requirements
exposure to harsh chemicals and solvents;
areas exposed to wheeled traffic (rubber or metal), heavy loads, or thermal shock, such as steam cleaning;
consider slip-resistance for walking areas or places where water, oil, and other lubricants could accumulate; and
system thickness requirements.
Additional facility needs
evaluate esthetic requirements;
discuss textures, colours, logos, and decorative requirements;
propose designs for publicly visited areas vs. production areas;
evaluate facility cleaning requirements; and
assess floor life expectancy.
Tips for facility managers
Facility managers who are dealing with damaged concrete have a complex problem. The following tips can help avoid extensive repair cost in the future:
perform a full visual floor inspection on a regular basis, particularly in facilities involving the use of harsh chemicals and heavy equipment, or those having concerns about sanitation (e.g. health and food preparation facilities);
connect with a well-established flooring contractor to inspect the floor on a yearly or bi-annual basis to identify developing problems;
ensure cracks or eroded areas are repaired immediately to avoid more serious damage; and
if the concrete floor is not yet protected with a surface coating, consider investing in one sooner than later to help safeguard the longevity of the concrete slab itself.
Protect one's asset
Many factors and variables can impact the integrity of a concrete flooring system, including how the floor was installed. A concrete floor coating should be installed in strict accordance with the manufacturer's instructions without employing dilutes and thinners when not recommended. If an aggregate is used in a flooring system it can add thickness and strength to the system, which, in turn, can further help preserve the integrity of a concrete floor. Beyond challenges associated with the initial installation, many other forces specific to the facility can impact speed of deterioration or wear. Yet, coating systems can be designed for a specific industry and/or facility's needs, thus taking on the brunt of the wear or damage and helping the concrete slab maintain its strength and durability for many years to come.
Conclusion
When renovating an industrial or commercial facility with a damaged concrete floor, it can be well worth the effort to evaluate the cost of professionally refurbishing the old concrete surface, as opposed to pouring a new slab. Managers can realize significant savings while simultaneously providing a long-term, low maintenance solution, contributing to overall property value.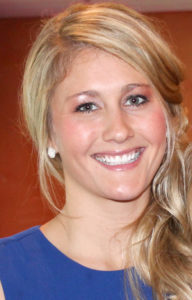 Kendall Youngworth is senior marketing specialist at Tennant Coatings. She is a 10-year veteran of the floor coating industry with experience in concrete substrate preparation and repair, as well as installation of a broad range of resinous flooring systems. Throughout her career, she has worked closely with technical service and R&D. A native Minnesotan, Kendall earned a bachelor's degree in both International Business and Spanish from Gustavus Adolphus College and received her MBA from Hamline University. She can be reached at ksr@tennantco.com.

Control the content you see on ConstructionCanada.net!
Learn More.