Getting it right with testing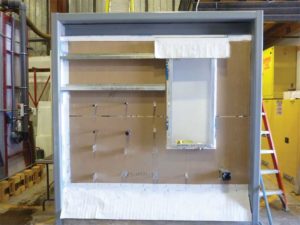 For efficiency and saving time, an ABS that is compatible with all types of construction materials and which also bridges gaps and joints of different building materials, can reduce the requirement of other air barrier membranes.
Some air barrier testing has been conducted with and without membranes and have achieved the same results. As an example, some solutions will bridge open joints of 12 mm (0.5 in.) without requiring the use of additional membranes over exterior gypsum sheathing and masonry cracks. Depending on the chosen product, this means only 25 mm (1 in.) of spray polyurethane foam (SPF) needs to be applied. This will help meet the building code requirements for air leakage of air barrier assemblies and the recommendations based on the relative humidity (RH) levels inside the building as indicated in Table A-5.4.1.2. (1)(2) of NBC 2015.
One of the most dynamic materials for developing a durable high-performance ABS is close-cell spray foam insulation (ccSPF). Under CAN/ULC S705.1-15, Standard for Thermal Insulation – Spray Applied Rigid Polyurethane Foam, Medium Density – Material Specification, the spray foam selected for the ABS will also provide the insulation properties according to CAN/ULC S770-15 Standard Test Method for Determination of Long-term Thermal Resistance of Closed-cell Thermal Insulating Foams.
There are some advanced solutions out there exceeding the requirement of NBC as an air barrier material. Today, hydrofluoroolefin (HFO) and sustainable closed-cell spray foams will act as insulation, air-barrier system, and vapour barrier at 50 mm and more. The three key properties could be delivered by only one product and one insulation contractor. This has a direct impact on construction cost and schedule. (ccSPF could be installed until -10 C [14 F] on dry and sound surface.)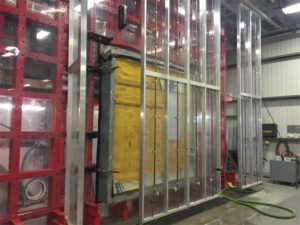 On the rainscreen aspect, some ABS testing was done in accordance with CAN/ULC S742-11, and after the test, the walls were exposed to one year weather conditions in Québec, and then retested for air tightness according to CAN/ULC S742-11 and water infiltration to meet ASTM E331, Standard Test Method for Water Penetration of Exterior Windows, Skylights, Doors, and Curtain Walls by Uniform Static Air Pressure Difference. The walls and details tested kept their water tightness and did not have any water infiltration under a pressure of 300 Pa after one year of exposure to site conditions and environmental elements. Note: All tests are performed without cladding.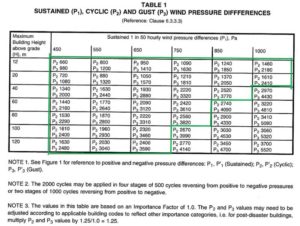 Something for builders, architects, and designers to direct their attention to is the in-field performance. All air barrier systems work in theory, but actual performance onsite takes on another reality. In the design stage and drawing process everything looks good and performs. Testing walls are built in labs and in perfect conditions with optimal site installation. To ensure predicted infield performance design, a security factor needs to be considered. In CAN/ULC S742-11 annex C there are the fifth minimum points to observe, but the best approach is to reproduce the tested assemblies in the manufacturer technical guide to obtain an ABS performance around air tightness and structural performance, continuity, buildability, and durability.
Most designers are satisfied with the general result of the air leakage performance according to the CAN/ULC S742-11 test method. The air leakage performance is classified from A1, 0.05 l/(s m2) @ 75 Pa to A5, 0.50 l/(s m2) @ 75 Pa. Often forgotten, is qualifying the building height limit according to the wind pressure in annex C of NBC for the climatic conditions of the construction site.
All air leakage rates from A1 to A5 have a building height limit according to the design wind pressure. Refer to Figure 1 in CAN/ULC S742-11. Performance air leakage rate comes with a building height limit.

Control the content you see on ConstructionCanada.net!
Learn More.