By François Lalande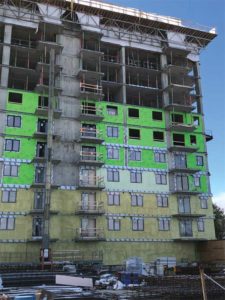 A strong air barrier is fundamental to the ecosystem of high-performing, durable, and passive buildings of tomorrow. As one looks to the future, building transformation would not be complete without an air barrier system (ABS) and its control layers contributing to a winning formula that is designed, designated, and detailed to control water, vapour, and air. These control layers are placed throughout the building in properties such as the roof, walls, and floor, to the below-grade structures such as the foundation, slab, parking, storage, utility rooms, communication conduits, and more.
The air barrier performance is a key aspect of a durable building envelop and the pressure differential between the environments is a constant stress. The performance of the air barrier system is the key to a sustainable envelope. The pressure differential between the environmental separation generates constant stress on the envelop which is much higher compared to the diffusion to water vapor diffusion which is a slow and less damaging phenomenon for the building. For normal buildings, a deficiency of the air barrier in a wall can generate 100 times more water than the diffusion of water vapor for the same service conditions.
The vapour barriers always go on the warm side of the assembly, but the air barrier system has a better chance of success outdoors because the sealing plane is more linear and simpler. When using Spray Polyurethane Foam (SPF) x 0.9 (2 lb) close cell product conform to Underwriters Laboratories of Canada (CAN/ULC) S705.1 Standard for Thermal Insulation, the material needs to qualify as a vapour barrier at 50 mm (1.9 in.) according to National Building Code (NBC) requirements, but each material have is own performance relate to install thickness. The vapour barrier properties perform in the homogeneous close cell structure and the diffusion work on both directions.
On the trajectory toward ongoing, sustainable, and impactful buildings, the NBC 2015 indicates it is important to consider an ABS meeting CAN/ULC S741-08, Standard for Air Barrier Materials–Specification, and S742-11 Standard for Air Barrier Assemblies–Specification (including ASTM E2357, Standard Test Method for Determining Air Leakage Rate of Air Barrier Assemblies, with some limitation) resulting with the highest classification being A1. (Also refer to Standard for air barrier materials – specification and Standard for air barrier assemblies – Specification)
The ABS must also meet the ultraviolet (UV) and heat exposure requirements of the material standards. By complying with these standards, an ABS demonstrates its resistance to air flow and anticipated structural loads, including loads induced by air pressure differences. It also shows it is durable as it has sufficient resistance to expected service conditions during construction and does not change its properties after it has been applied to its substrate.
Making durability a priority
CAN/ULC S742 is a Canadian benchmark of performance but in addition to minimum requirements in this test method, some available ABS qualify on many substrates, construction detail options, and choices in accessories. Further, consider an air barrier solution where the manufacturer included additional accessories like Z-girts and many types of thru-wall flashing in the testing. This type of testing represents many options and realities of a building construction site. All these options can be found in the manufacturers technical guide.
A durable and high-performing ABS is usually designed and tested to withstand the highest sustained wind loads across the country. This process entails the walls tested were exposed to the maximum pressure set in CAN/ULC S742-11 with winds 1/50 years, P1 of 1000 Pa. Therefore, it equates to the strongest ABS one can find in the market. This kind of strength lends to a system that can be installed on the highest buildings across Canada. (There may be building height limits depending on their location.) A good rule of thumb when making durability a priority is to consider an ABS exceeding the requirements of:
CAN/ULC S742-11;
Canadian Construction Materials Centre (CCMC) technical guide;
Air Barrier Association of America (ABAA); and
American Society of Heating, Refrigerating, and Air-conditioning Engineers (ASHRAE), 90.1, Energy Standard for Buildings Except Low-rise Residential Buildings.
There are air barrier systems out there that have been tested with a cycling pressure of 1000 Pa (P1) and have a wind load limit of 3280 Pa (P3), making them the strongest air barrier systems available. By meeting this standard, these systems show they can maintain continuity of airtightness and structural performance at material joints at junctions with air barrier components and at typical penetrations through air barrier assemblies.

Control the content you see on ConstructionCanada.net!
Learn More.