AIA names NRCan building among the year's best green projects
by Katie Daniel | May 12, 2015 11:48 am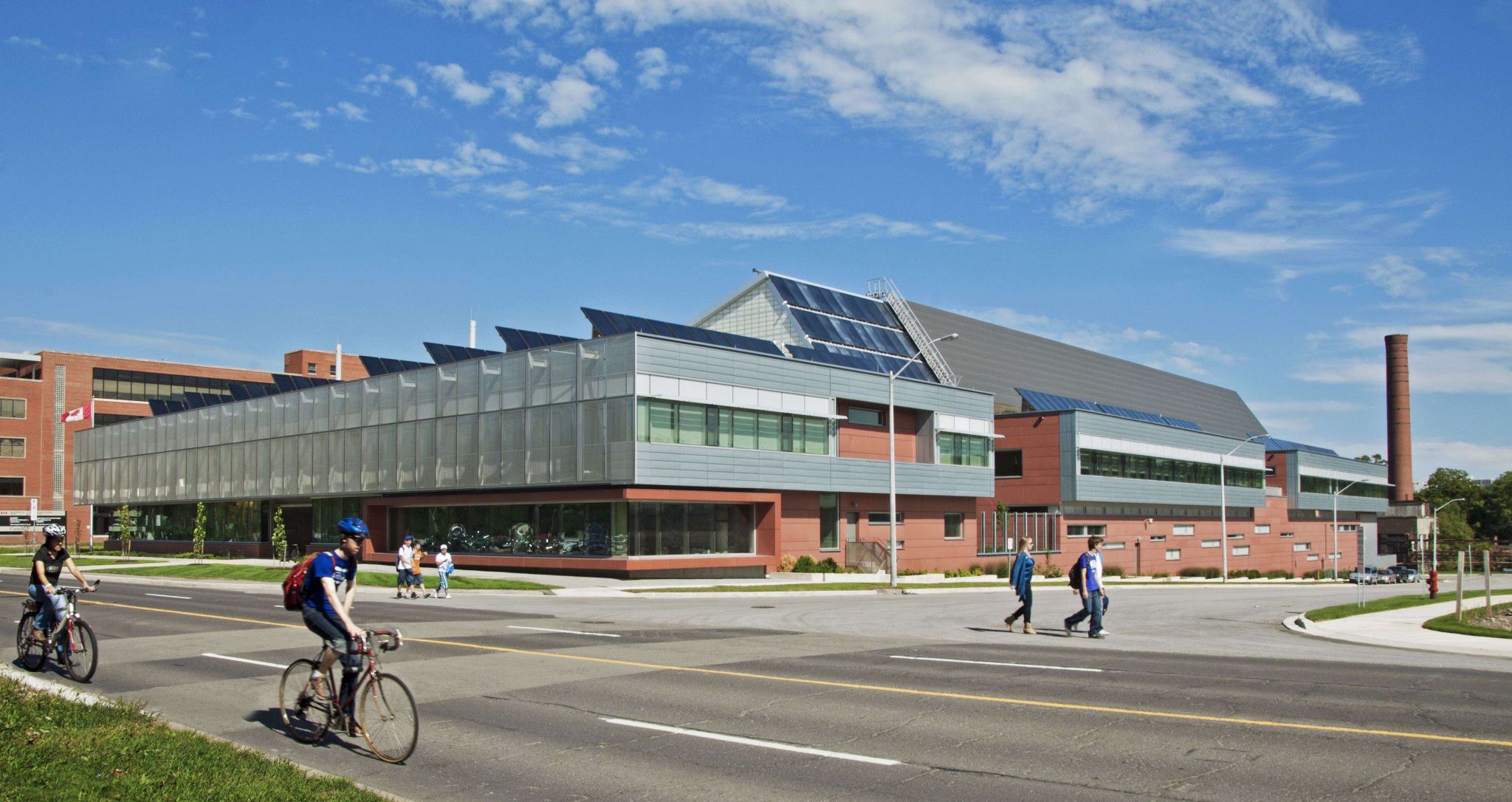 The American Institute of Architects (AIA) Committee on the Environment (COTE) awarded North American projects as part of its Top 10 Green Projects of 2015 competition, which included a Natural Resources Canada (NRCan) building in Hamilton.
The CANMET Materials Technology Laboratory, designed by Diamond Schmitt Architects, is located in McMaster Innovation Park (MIP). It conducts metallurgical research and testing for the Canadian steel and manufacturing industries, including pilot scale casting, rolling, welding, corrosion, and mechanical testing, as well as microstructure evaluations and radiation testing.
The 16,193-m² (174,300-sf ) facility is Leadership in Energy and Environmental Design (LEED) Platinum-certified and has a goal to achieve a 70 per cent reduction in energy use. The structure contributes thermal mass, which enhances the performance of in-slab radiant heating and cooling, and concrete ceilings help optimize the efficacy of that radiant system. Displacement ventilation helps reduce energy use and improves indoor air quality (IAQ), while the solar air system is tilted to 52 degrees to optimize energy performance.
"We like how the different elevations address the climatic response," wrote the competition judges. "It is a thoughtful building and not the typical sort attaining high performance. The interiors were very carefully resolved, with a clean, elegant, and obviously functional approach."
This high-security environment is developing such frameworks as:
brownfield remediation and dust-control protocols,
indigenous planting;
stormwater management;
retention ponds;
rainwater reuse; and
heat island mitigation.
The site's development plan has made a positive impact on reducing peak flows and runoff volumes, in addition to improving water quality to a tributary of Chedoke Creek. It was the only Canadian project to make AIA COTE's top 10 list.
To learn more about the facility, see the Construction Canada article, "Active, Collaboration, Passive Energy: Using integrated design and solar walls for lab sustainability" by Birgit Siber in the May 2011 issue. For the full list of winners, click here.
Endnotes:
[Image]: http://www.constructioncanada.net/wp-content/uploads/2015/05/CANMET-MTL-Photo-Elizabeth-Gyde-.jpg
Source URL: https://www.constructioncanada.net/aia-names-nrcan-building-among-the-years-best-green-projects/
---