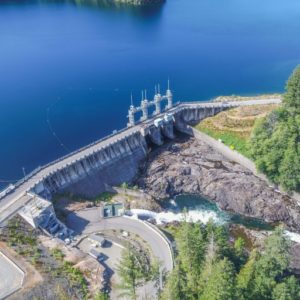 Aecon-EBC General Partnership (AEGP), a consortium between the two construction firms, will work on the first phase of a $245 million two-phase civil construction contract for the John Hart Dam Seismic Upgrade project in Campbell River, B.C., to improve the seismic resiliency of the dam.
An Early Contractor Involvement (ECI) phase will commence in the fourth quarter of 2022 to collaboratively plan and prepare for construction. Upon successful completion of the ECI phase and following BC Hydro's final project decision, BC Hydro intends to issue authorization to proceed with construction, which is expected to commence in the third quarter of 2023, with completion anticipated by the end of 2026.
An Aecon-led joint venture completed the John Hart Generating Station Replacement project in 2019, which included the construction of a new water intake, the replacement of three penstocks with a tunnel, and the construction of a new underground generating station and water bypass facility. The innovative project was the first hydroelectric Public-Private Partnership (P3) in Canada and was recognized with the 2018 Tunnelling Association of Canada Award of Excellence.
"This project will ensure the continued supply of safe, reliable power for surrounding communities and adds another signature project to our diverse backlog in Western Canada–underscoring our preeminent reputation as the preferred contractor for complex civil construction," says Jean-Louis Servranckx, president and CEO of Aecon Group Inc. "We are proud of the critical role Aecon played in successfully delivering the John Hart Generating Station Replacement project and we look forward to working with our partner while further strengthening our relationship with BC Hydro through this collaborative approach."