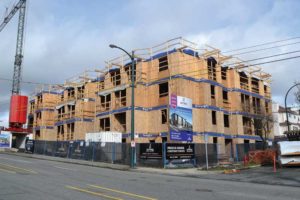 Passive House in the City of North Vancouver
Playing catch up with Vancouver in reducing GHGs from buildings is the City of North Vancouver. While municipal requirements are rapidly evolving, the city's overall goals for energy savings are still relatively modest. However, change is on its way. The 2014 official community plan calls for a 15 per cent reduction in GHG emissions over 2007 levels by 2020, and a 50 per cent reduction by 2050. North Vancouver recently adopted the new BC Energy Step Code with a phased implementation. As of July 1, Part 9 residential buildings up to 111 m2 (1200 sf) will be required to meet Step 1, while taller structures need to meet Step 3. The code standard for Part 3 residential buildings will be Step 2, while Step 1 is for commercial buildings.
Of particular note in North Vancouver is the Moodyville area, a primarily single-family residential area recently rezoned for higher-density housing projects. Seeing an opportunity for advancing its sustainability ambitions in the redevelopment of this area, the City of North Vancouver is offering a density bonus to projects achieving Passive House certification—one of three conforming routes to high-energy efficiency and resultant increased density approval. North Vancouver is also actively promoting Passive House projects with a staff recommendation of prioritized treatment in the processing of permits (This is based on a 2016 Staff Report regarding Moodyville rezoning and development controls.). However, attempts to meet the Passive House standard are being made difficult by North Vancouver's requirement for new projects to hook up to its hot water district energy system. While the system has its efficiencies, meeting the Passive House standard for primary energy is not easy. It remains to be seen how many larger projects will ultimately go for or gain Passive House certification.
Passive House elsewhere
The influence of the Passive House approach to energy-efficient buildings is not confined to British Columbia. Toronto's Zero Emissions Buildings Framework introduces an approach to reducing GHG emissions using metrics and strategies familiar to Passive House practitioners. The framework calls for performance-related standards measuring total EUI and thermal demand intensity. New buildings will have mandatory airtightness testing. Additionally, Toronto proposes to measure GHG intensity.
Conclusion
One can see the adoption of the Passive House standard is increasingly being recognized by jurisdictions in British Columbia and elsewhere as an effective way to reduce GHG emissions associated with buildings. While requirements vary between jurisdictions and building types, the standard is explicitly mentioned in new regulations in the province, as well as by the cities of Vancouver and North Vancouver, for meeting the most stringent requirements for energy use. Within the often confusing patchwork of regulations, Passive House provides a single standard and methodology for meeting energy requirements in zoning and codes throughout the province. The standard comes with straightforward energy modelling tools, a consistent methodology, best construction practices, and thousands of precedent projects to assist designers and builders. As municipalities and the province increasingly strive to meet zero or near-zero emissions targets for buildings, one can expect to see increasing reference in regulations and codes to Passive House. With this knowledge, architects, designers, developers, regulators, and contractors have a roadmap for the evolution of the building industry in British Columbia in the era of climate change.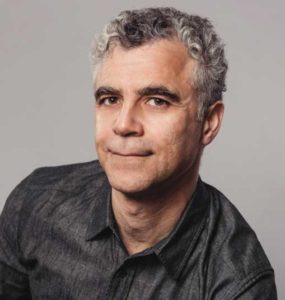 Andrew Larigakis, RIBA, AIBC, MRAIC, LEED AP, is a Vancouver-based architect, certified Passive House designer, and principal of his eponymous studio, Larigakis Architecture, which he founded in 2012. During his 30-year practice, Larigakis has been involved in many award-winning local and international projects. He works primarily on institutional, community, and residential projects, with a particular focus on green design. Larigakis can be reached via e-mail at andrew@larigakis.ca.

Control the content you see on ConstructionCanada.net!
Learn More.