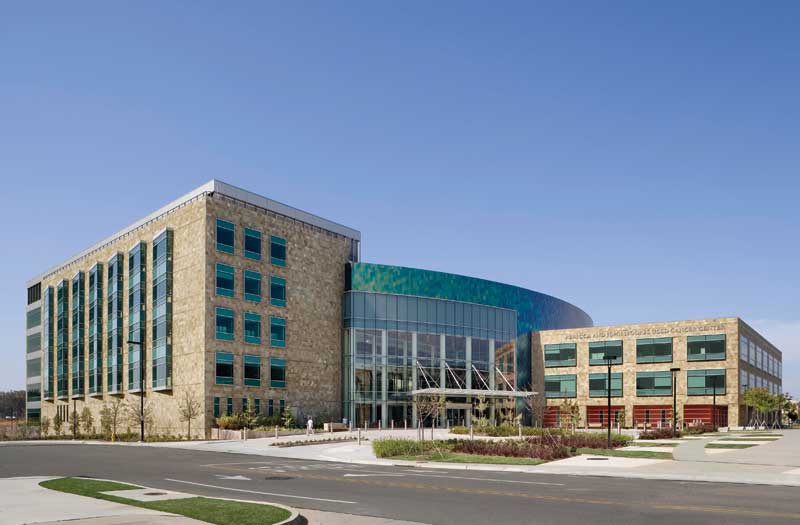 By Arthur Mintie
Ceramic tile and stone have been used as exterior finishes and cladding for buildings around the world for decades. Direct-adhered installations in particular provide reliable weather- and shock-resistant performance. Coming in a wide range of finish sizes, facial dimensions, colours, and thicknesses, these assemblies are used in many applications, from façades to columns and freestanding landscaping walls.
Used in lieu of mechanical anchoring systems, direct-adhered adhesive systems for tile and stone can include trowel-applied high-performance adhesive and levelling mortars, as well as suitable membranes, grout/pointing mortars, and flexible sealants.
There are many advantages to using the direct-bond method to install ceramic tile and stone on external building façades. This strategy offers design flexibility that would otherwise be unsuitable as a cladding for façades. Building owners benefit from the use of environmentally friendly finish and installation materials, including lower costs, less weight on the building, and more efficient use of natural resources, resulting in a lower carbon footprint.
Employing the direct-adhered method usually results in a thinner and lighter system. This can have a positive effect on the entire supply chain for the project—less material, less fuel consumption, less energy required to cut/mill the finishes, and an overall reduced environmental impact.
Building code considerations
Building code compliance is one of the first considerations of any exterior façade project. Exterior ceramic tile and stone cladding are governed by the provincial adaptations of the National Building Code of Canada (NBC), along with local building codes.
Prescriptive building code requirements can include the following necessities:
minimum module thickness;
maximum facial size dimensions;
maximum weight per m2 (sf);
minimum adhesive mortar bond strength requirements;
maximum allowable deflection under total anticipated
load; and
maximum height limitations.
It is important to note the code-established deflection standard is utilized in absence of project-specific engineered building constructs. Design professionals are empowered to engineer the building to adjust deflection criteria if deemed appropriate. For example, framed structures can be designed to meet specific deflection criteria as required. In some cases, a more rigid deflection criteria might be appropriate to accommodate for the height or weight of finishes or other elements, such as the weight or thickness of the setting bed.
Backup wall constructs for direct-adhered ceramic tile and stone cladding typically consist of concrete, concrete masonry units (CMUs), wood- or steel-framed assemblies with fastened lath and plaster systems, or cementitious backer board substrates. Cast-in-place concrete or tilt-up precast concrete applications installed in accord with Tile Council of North America (TCNA) Method W-202 (E) is a commonly specified installation system for adhered veneers (Figure 1).

Control the content you see on ConstructionCanada.net!
Learn More.