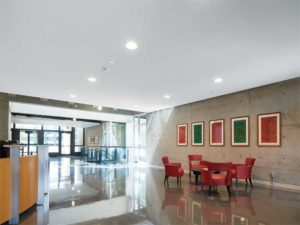 Absorb sound with an acoustical ceiling. For speech privacy, it is recommended to use a mineral fibre acoustical ceiling installed wall-to-wall that combines high ceiling attenuation (CAC 35 or higher) with good sound absorption (NRC 0.60 or higher).
Block sound with an effective combination of ceiling and wall construction. To obtain high levels of speech privacy, care must be taken at the penetration points in walls and ceilings. All components of the wall system should be engineered to preserve STC performance and for the removal of problematic sound leaks around doors, wall joints, and seals at the ceiling and floor interface. Wall, window, and door details are critical since joints, cracks, and other penetrations allow sound to intrude into the adjoining space.
It is also critical to choose light fixtures and HVAC elements that do not compromise the sound-blocking capability of a ceiling design. This might involve ducting return air, using common accessories, or specifying acoustical fixtures to maintain the sound isolation of the room design.
An acoustical ceiling with a CAC of 35 or higher is best in closed spaces to block sound from transmitting into an adjoining office, corridor, or open plan area. It will also block sound from adjacent spaces from intruding into the closed area, thereby improving the acoustic environment.
Balanced acoustical design requires the CAC value of the ceiling match the STC value of the wall, especially in partial-height wall construction to ensure speech privacy. When equal CAC and STC values are paired, optimized performance is achieved. Today there are ceiling panels offering CAC 45 and 50 options to match partial-height walls with high STC values.
Cover intruding noise with sound masking. Blocking sound through the wall and ceiling is one half of the speech privacy equation. The ambient background sound is the other. Achieving the full privacy potential of spaces may require the use of tuned and designed electronic sound masking. Co-ordinating the performance between the sound masking and ceiling/wall system is essential. Each component must be engineered to ensure the design of the sound masking system complements the architectural performance over the key speech frequency range.
Acoustics plus aesthetics
Finally, it is important to note regardless of the space, aesthetics do not have to be compromised when using a high performance acoustical ceiling. Many of today's highest performing acoustical ceiling panels feature a popular smooth, fine textured surface visual. Today there are even ceiling systems offering the seamless appearance of a drywall but perform like an acoustical ceiling.
Additional esthetic options range from large panels more in scale with bigger spaces to panels with a unique edge detail that produces a 6-mm (¼-in.) reveal minimizing visible grid creating a ceiling plane that is more monolithic in appearance than ordinary suspended ceilings. Panels are also available with a tegular or reveal edge to create a shadow line to help camouflage the suspension system.
Added acoustic value
The ability to isolate sound through balanced acoustical design not only helps achieve speech privacy, but also increases speech intelligibility throughout the spaces by controlling reverberation. Adequate sound isolation also results in increased overall acoustic comfort and productivity as distraction is reduced.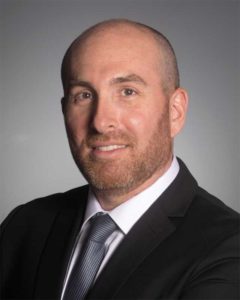 Sean D. Browne is senior principal scientist for Armstrong Ceiling & Wall Solutions in Lancaster, PA, where he leads the Armstrong Acoustics Program. He is a member of the Acoustical Society of America (ASA) and ASTM International. He holds engineering degrees from Florida State University and the University of Miami and has been published in the journals of the International Symposium on Room Acoustics and Acoustical Society of America. He can be reached at sdbrowne@armstrongceilings.com.

Control the content you see on ConstructionCanada.net!
Learn More.