By Sean D. Browne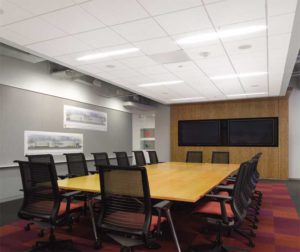 As sensitivity to confidentiality continues to heighten, specifiers need to become more aware of the need to control sound within a space and isolate sound between spaces. Whether the spaces are closed and private or open and collaborative, speech privacy is now more important than ever.
Speech privacy refers to how well a conversation is overheard and understood by an unintended listener in an adjacent space. It is a concern in a variety of buildings, ranging from health-care facilities where physician-patient confidentiality is critical and commercial office buildings where privacy is required in meeting rooms and private offices to educational facilities where it is important to reduce the level of speech intrusion from adjacent spaces.
Health-care facilities
In health-care settings, patients can be exposed to situations in which they overhear conversations about other patients or have their own private information communicated in an environment where it can be heard by others. Examples include examination rooms, consultation rooms, treatment rooms, patient rooms, meeting rooms, and physicians' private offices.
Research shows such scenarios are likely to impact patients' trust and their ability to discuss their health problems freely with their physicians, which can then have serious implications on their care. As a result, it is critical private conversations with or about a patient are not overheard. Rules pertaining to patient privacy can be found in Canada's Personal Information Protection and Electronic Documents Act (PIPEDA).
School classrooms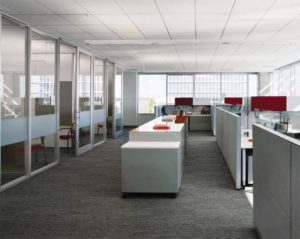 According to the Acoustical Society of America (ASA), students, on average, only hear 75 per cent of spoken words in a classroom with poor acoustics. One reason is the level of activity noise intruding the classroom from adjacent spaces.
High levels of intruding noise can mask speech, reducing the students' ability to not only hear, but also to understand their teacher. Moreover, teachers must speak louder to overcome the noise, causing vocal fatigue over time.
Sound-absorptive materials can reduce some of the noise from mechanical systems and intruding activities. However, the best way to reduce it is to keep sound from intruding into the classroom in the first place. Targets for background noise level and sound isolation can be found in the American National Standards Institute (ANSI) S12.60, Acoustical Performance Criteria, Design Requirements, And Guidelines For Schools, Part 1: Permanent Schools.
Commercial offices
Office employees have long considered the intrusion of unwanted noise as one of the leading sources of workplace dissatisfaction. Over the years, study after study by the Center for the Built Environment (CBE), the American Society of Heating, Refrigerating and Air-Conditioning Engineers (ASHRAE), and many others points to poor acoustics as a major cause of reduced effectiveness, higher stress, and declining job satisfaction.
The studies also indicate the majority of acoustical complaints relate to speech privacy—hearing an unwanted conversation or feeling one is overheard. Such conversations can lead to unintentional breaches of confidentiality in sensitive work areas. Keeping private interactions confidential is thus a key concern in conference rooms, executive offices, and other similar spaces in an office environment.
Additionally, a workplace survey conducted by design firm Gensler indicates organizations offering mostly open environments with on-demand private spaces consistently prove best, enabling collaboration in open spaces without sacrificing the ability to focus in concentration areas. The challenge in areas such as these is to balance the need for privacy with the need for energetic teaming.

Control the content you see on ConstructionCanada.net!
Learn More.