Achieving safe spray foam insulation applications
by Elaina Adams | October 1, 2011 2:52 pm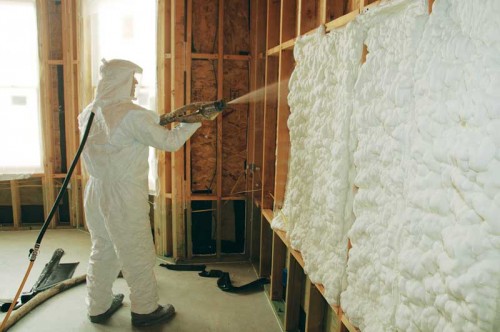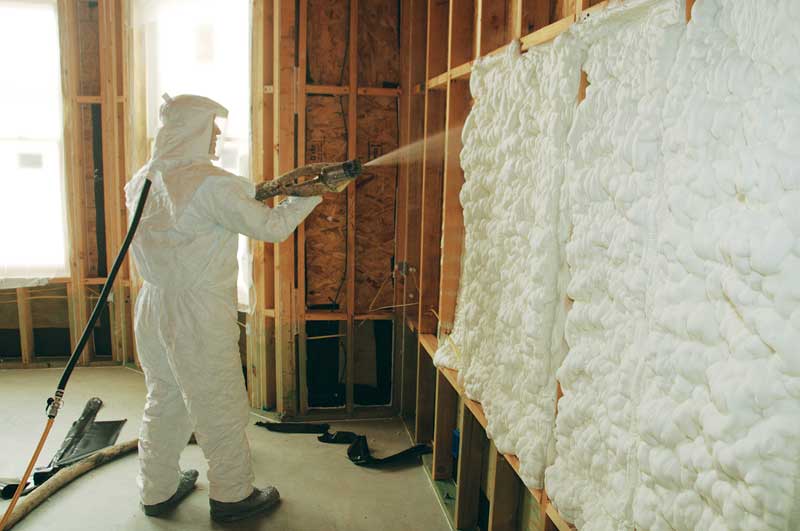 By Monica Karamagi
Sprayed polyurethane foam (SPF) is gaining global recognition because it provides superior insulating properties by creating a tight building envelope that reduces unwanted air infiltration. Achieving a tight building envelope is the foundation for an energy-efficient building. According to Natural Resources Canada (NRCAN), "air leakage represents 25 to 40 per cent of the heat lost from an older home."  (For more information, visit oee.nrcan.gc.ca/residential/personal/documents/air-leakage-eng.pdf[2]). Creating a tight, well-insulated building envelope by insulating and air-sealing with SPF will reduce energy bills significantly when compared to traditionally insulated buildings.
Polyurethanes have been safely used in consumer products such as mattresses, shoes, and car seats for decades. Sprayfoam insulation has been used in building construction for more than 50 years. When properly applied in adherence with safety regulations, it is a safe, higher-performing alternative to using traditional fibrous insulation. (For more on sprayed polyurethane foam, see "The Future of Closed-cell Sprayed Polyurethane Foam Insulation" by Mark Nelson, and "Increasing Energy Efficiency with Insulation" by Mike Kontranowski in the September 2011 issue of Construction Canada. To read, visit www.constructioncanada.net[3] and select "Archives.")
Safe and proper SPF application can be achieved when builders and developers select good contractors. Additionally, all parties need to work together to create a safety culture that follows application best practices.
Choosing a contractor
The National Building Code of Canada (NBC), created by the Canadian Commission on Building and Fire Codes (CCBFC), outlines the requirements for both sprayfoam materials and application. While it must be adopted by a province or territory to have true impact, NBC serves as the model throughout the country. Specific modifications can be made to the code on a province-by-province basis.
Safe contractors will not only adhere to NBC, but they will also install products supplied by manufacturers who have secured a Canadian Construction Materials Centre (CCMC) evaluation report or listing. This provides proof that SPF meets both NBC's standards and intent.
When choosing between sprayfoam contractors, one must first start with a simple checklist:
are they certified to apply sprayed polyurethane foam and do they have a current license?
are they experienced in installing SPF in a specific market?
do they have the proper insurance?
do they have qualified references?
in their current work, are they using the correct personal protective equipment (PPE), including respirators, protective clothing, and gloves?
When it comes to insulation application, the bid price cannot be the only consideration. Even after a contractor has been selected, it is crucial for one to maintain oversight and have a project manager onsite. This will help verify the contractor is upholding the safety processes within the NBC. In some cases, it is as easy as dropping by the worksite to check if the crew is wearing the required PPE.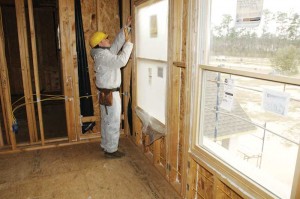 The industry recommends wearing personal protective equipment. Once a safe worksite is established, workmanship becomes the priority.
Gloves
To avoid direct skin contact, fabric gloves fully coated with nitrile, neoprene, butyl rubber, or polyvinyl chloride (PVC) must be worn while applying SPF. Tape may be used to seal arm and feet openings as needed.
Work boots
To avoid foot injury, steel-toed work boots covered by disposable over-boots should be worn in most work areas. In cases where over-boots present a slip/fall hazard, they may be eliminated.
Respirator/eye protection
To avoid inhalation and eye injury caused by foam aerosol or mist, a National Institute for Occupational Safety and Health (NIOSH)-approved, full-face or hood-type supplied air respirator (SAR), operated in either positive pressure or continuous flow mode, must be used.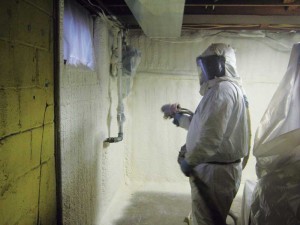 Protective clothing
To avoid direct skin contact, disposable coveralls with an attached hood and disposable over-boots with skid-resistant soles must be worn. In cases where heat stress may be a concern, a lightweight, disposable coverall should be considered.
Hard hat
A hard hat should be worn to avoid head injury. An approved hard hat must be worn in areas where there is a risk of falling objects.
Quality assurance
A requirement of the NBC's national material standard––Underwriters Laboratories of Canada (CAN/ULC) S 705.1, Standard for Thermal Insulation–Spray-applied Rigid Polyurethane Foam, Medium Density: Material Specification––is the manufacturer identifies a third-party site quality assurance program (QAP) organization that will be responsible for contractor accreditation, installer certification, and site audits.
Additionally, the manufacturer must agree to only sell product to accredited and licensed contractors, who in turn, use trained, certified, and licensed installers. The manufacturer has input into the requirements and agrees beforehand they are acceptable; it then relies on the installers to provide proof (every three years) the CCMC standard is being met for installation. The QAP includes a third-party warranty program that comes into play if the contractor is 'unable or unwilling' to correct defects. This prevents the manufacturer from being held responsible for a contractor's mistakes.
Currently, the Canadian Urethane Foam Contractors Association (CUFCA), Exova (a provider of laboratory testing, advising, and assuring services), and Morrison Herschfield provide QAPs for a variety of sprayfoam manufacturers.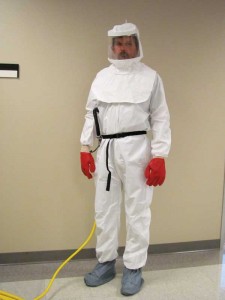 CAN/ULC S 705.1 also requires the product be "easily and uniquely identified on the jobsite." Currently, manufacturers use different colours to identify their specific product.
During the installation process, quality assurance should be part of the contractor's oversight. CAN/ULC S 705.2, Spray Application of Rigid Polyurethane Cellular Plastic Thermal Insulation for Building Construction, is the Canadian installation standard. It requires visual inspections, density testing, and adhesion testing throughout the job. Contractor daily work logs should contain the results of these inspections and tests, as well as sprayfoam chemical lot numbers and site conditions. These work logs help reinforce quality installation and can be useful if problems develop later.
In addition to the standards, blower door testing before drywall installation can identify any air leakage points. Lastly, the foam should be installed according to manufacturers' guidance, which may recommend transition materials at openings and terminations, and expansion joints if necessary.
Even when SPF is safely and properly installed, there are additional considerations to ensure the home or building is safe and healthy for its occupants.
Adjusting HVAC design for SPF buildings
Building science experts indicate that while a facility cannot be constructed too airtight for efficiency and healthy indoor air quality (IAQ), it can be under-ventilated. Both commercial and residential buildings insulated with sprayfoam are often 'tight,' and will almost always require mechanical ventilation. This helps with both IAQ and humidity control. Typical strategies include using supply ventilation, exhaust ventilation, and balanced ventilation (i.e. heat- and energy-recovery ventilators [ERVs/HRVs]) to bring in the fresh air.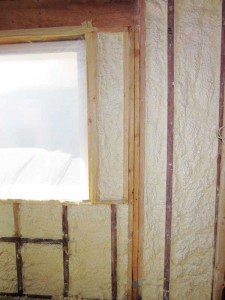 In the past, HVAC contractors often held a 'more-is-better' mantra regarding heating and cooling systems. However, SPF insulation allows for a significant reduction in the amount of heating and cooling required (often in the range of 40 per cent), so old rules of thumb with HVAC sizing no longer apply. (See "White Paper Proper Design of HVAC Systems for Sprayfoam Homes," by Doug Garrett of Building Performance and Comfort Inc). Oversized systems will shortcycle and hurt efficiency, comfort, humidity control, and equipment life. With sprayfoam building envelopes, a Manual J load calculation should be performed to right-size the HVAC unit. (Manual J is the name for a specific protocol (often called "Heat Load Calculation" or "Cooling Load Calculation") used to determine how much heating/cooling a home needs to stay cool and dry in the summer and warm in the winter. See Residential Energy Services Network [RESNET]).
Sealed combustion or power-vented furnaces and water heaters should be used whenever they are placed within a tight building envelope. This safeguards against flame or flue gas spillage backdrafting into the building in the event it undergoes depressurization.
HVAC installers must be familiar with sprayfoam building envelopes. Attention must be given to providing adequate fresh air ventilation, combustion safety, and humidity control to ensure the airtightness created by the SPF provides an ongoing return for the building owner in terms of comfort, energy cost savings, and safety.
Spreading the message
Achieving a high-quality, safe sprayed polyurethane foam application is not just about choosing the right contractor, but also about spreading the message within the industry and sharing best practices with others.
Sprayfoam schools––created and instructed by suppliers––are designed to share industry best practices. These typically include both classroom education and hands-on application and troubleshooting. The courses can also often provide the required industry certification.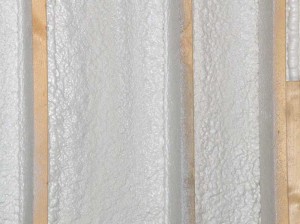 Topics covered should include:
health and safety;
material handling;
equipment maintenance and operation;
worksite preparation and spray application;
troubleshooting;
product storage;
building science; and
hands-on spraying techniques.
There are also numerous North American trade associations dedicated to the promotion of sprayfoam best practices. These include the American Chemistry Council's Centre for the Polyurethanes Industry (CPI), the Spray Polyurethane Foam Alliance (SPFA), and CUFCA.  (Visit www.spraypolyurethanefoam.org[9], www.sprayfoam.org[10], and www.cufca.ca[11] for more information).
The Canadian Urethane Foam Contractors Association provides detailed requirements for sprayfoam fire performance as defined by Canadian building codes. Relevant sections for combustion and fire performance include:
3.1.4.2, "Protection of Foamed Plastics in Combustible Construction;"
3.1.5.11, "Combustible Insulation and its Protection in Noncombustible Construction;" and
3.1.11.2, "Firestopping in Wall Assemblies."
Long-term impact
The safety measures are designed to mitigate the risks present during the actual SPF application. Once applied and cured, sprayfoam poses no risks to consumers, holding the same safety record as the polyurethane used in car seats, mattresses, and athletic sneakers.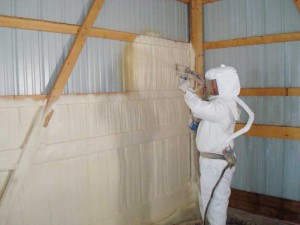 SPF insulation has the potential to impact not just a building owner's heating and cooling costs, but also on a large scale, how Canada as a nation consumes energy. Safe, proper application ensures the initial investment in SPF will be quickly returned and provide energy savings for years to come.
Monica Karamagi is the regional marketing and industry affairs manager for Huntsman Polyurethanes. She currently serves as a member of the board of directors for the Spray Polyurethane Foam Alliance (SPFA), and co-chairs the Sprayfoam Safety Outreach workgroup as part of the Centre for the Polyurethanes Industry (CPI). Additionally, Karamagi represents Huntsman at the Council of North American Insulation Manufacturers (NAIMA). She can be reached via e-mail at monica_n_karamagi@huntsman.com.
Endnotes:
[Image]: http://www.constructioncanada.net/wp-content/uploads/2016/02/CC2.jpg
oee.nrcan.gc.ca/residential/personal/documents/air-leakage-eng.pdf: http://oee.nrcan.gc.ca/residential/personal/documents/air-leakage-eng.pdf
www.constructioncanada.net: http://www.constructioncanada.net
[Image]: http://www.constructioncanada.net/wp-content/uploads/2016/02/CC1.jpg
[Image]: http://www.constructioncanada.net/wp-content/uploads/2016/02/CC7.jpg
[Image]: http://www.constructioncanada.net/wp-content/uploads/2016/02/CC4.jpg
[Image]: http://www.constructioncanada.net/wp-content/uploads/2016/02/CC5.jpg
[Image]: http://www.constructioncanada.net/wp-content/uploads/2016/02/CC3.jpg
www.spraypolyurethanefoam.org: http://www.spraypolyurethanefoam.org
www.sprayfoam.org: http://www.sprayfoam.org
www.cufca.ca: http://www.cufca.ca
[Image]: http://www.constructioncanada.net/wp-content/uploads/2016/02/CC6.jpg
Source URL: https://www.constructioncanada.net/achieving-safe-spray-foam-insulation-applications/
---