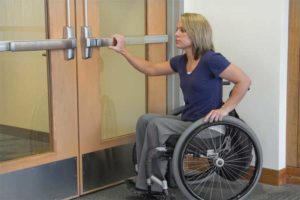 Operation
If a door is meant to be opened or closed, it should be capable of being done so with safety and ease. Door hardware such as handles, pulls, latches, or locks are required to be served by a clear floor space of not less than 800 x 1350 mm (32 x 53 in.) for front or side approach, be operable using a closed fist (without requiring tight grasping, pinching with fingers, or twisting of the wrist), be visually contrasting to the door if transparent, and be mounted at a height between 900 and 1100 mm above the finish ground or floor surface. If the door is a sliding type, it is suggested the door hardware be exposed and usable from both sides. Consider using lever-style or D-shaped door pulls wherever possible. It is advisable to avoid hardware requiring fine motor skills or strong dexterity, such as thumb-latches, keypads, card insertion readers, and knobs.
Doors are required to open when a force of not more than 38 N for exterior doors, and 22 N for interior doors, is applied to the handles, push plates, or latch-releasing devices. Applying a force less than 22 N can enable more people to open doors easily and independently.
A door should close softly and slowly behind you, and not slam on you, potentially causing harm. For that reason, where a door is equipped with a closer, it is required to have a closing period of no less than three seconds.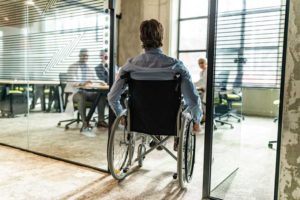 Passage
One of the primary functions of a doorway is to permit people access into or out of a space. Sounds pretty simple, but unfortunately, the existing clear width of some doors can prevent a number of people from passing through them safely or untouched (e.g. people who use assistive mobility devices). Over the last five years, building codes have begun adopting a larger minimum clear width for doorways (Figure 5). For instance, where doors—swinging or sliding—are located in an accessible (otherwise referred to as 'barrier-free') path of travel, they are required to have a clear width—measured between the inner-stop of the frame to the inner-face of the door slab when in the 90-degree open position—not less than 800 mm (2015 NBC), which will be increasing to 850 mm (33 in.) in the 2020 NBC. Per OBC, the minimum clear width of doors is 860 mm (34 in.). The difference between an 850-mm and 860-mm clear width often means sizing up from the standard 915-mm (36 in.) doorway, which can have an impact on cost. The intent of increasing the standard clear door width is to limit the probability that persons using a wheeled mobility device will have difficulty in negotiating through the door opening without hitting the frame, which could lead to harm. Far too many individuals who use mobility devices have scratched up hands or scarred knuckles from having to manage through doorways.
A threshold sits on top of the doorsill and its primary purpose is to create a seal beneath the doorway or smoothen the transition between two different floor materials along the bottom of the door. A door located in an accessible path of travel or used as an access to exit (unless used to confine the spillage of flammable liquids or serving a balcony not required to be accessible) is required to have a threshold not greater than 13 mm (½ in.) and must be bevelled. The implications of a door threshold, even as low as 13 mm, can cause someone to tilt too far backward in their wheelchair or lift their feet higher than usual, causing missteps and falls (Figure 6). Wherever possible, the threshold should be level.
Automatic and power door operators may be expensive, but they make opening doors that much easier for everyone. Places without latch-side clearances or designated accessible entrances require a power door operator to activate automatically or through the use of controls. Where controls, such as push-pads or wave action sensors, are provided, they must be located in an accessible path of travel, mounted at an accessible height, and be marked with the international symbol of access. The key to good power door operator installations is the location of the push pad or sensor—the pad on the 'push' side of the door can be immediately adjacent to the door opening because there is no door swing to steer clear of, and on the 'pull' side, the pad needs to be placed not less than 600 mm from the door opening to ensure there is enough room for people to steer clear of the door swing. The latest NBC amendment requires power door operator controls to be operable from a height between 150 (6 in.) and 300 mm as well as between 900 and 1100 mm above the finished ground or floor surface and activated by touch or approach using a fist, arm, or foot, or other entity. To achieve this, it is recommended to install an elongated push pad (long rectangular plate) in lieu of two standard push pads. The most important accessory to remember when purchasing an automatic or power door operator is safety sensors, which is not mandatory in NBC (or other codes for that matter) unless the door applies a force of more than 65 N to stop its movement.

Control the content you see on ConstructionCanada.net!
Learn More.