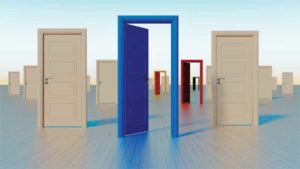 By Samantha Proulx, CET
A lot of readers are probably capable of using a door and its hardware without giving it much thought, but there are so many others who choose not to or may not be able to go somewhere because the door prevents access in one way or another—the door(s) may be difficult to find, not large enough to fit through, too heavy to open, or it closes too fast. Let me jog your memory—remember the time your hands were full while attempting to go through a door or set of doors with a stroller full of kids, mobility device, bicycle, golf bag, or you finally decided to leave the house to get some groceries, and all of a sudden the door landing feels too small, the vestibule is too tight, the doors are super heavy (one arm on one door while you acrobat a limb to hold the other) as the door(s) close at lightning speed behind you. Now you are frustrated, cursing, and wishing the entire setup was equipped with a power door operator or designed properly in anticipation of people passing through doing real life things. Well, you are not alone.
This article takes into consideration Articles 3.8.3.6, "Doorways and Doors," and 3.3.1.19, "Transparent Doors and Panels," of the 2015 National Building Code (NBC), and gives a sneak preview of proposed changes to the 2020 NBC concerning those articles, unless otherwise specified ('proposed changes' refer to the amendments being considered and not yet confirmed or in effect). The Ontario Building Code (OBC) has also been used as a comparison code to provide readers an example of where a provincial code may have more restrictive accessible requirements for doors. Although not entirely addressed in this article, the Canadian Standards Association (CSA) B651-18, Accessible Design for the Built Environment Standard, is another great reference for accessible door guidelines NBC gives design professionals the option to comply with, and also forms the base for some of the more meaningful access features outlined in the Rick Hansen Foundation Accessibility Certification (RHFAC) survey criteria if you are looking to get certified down the road.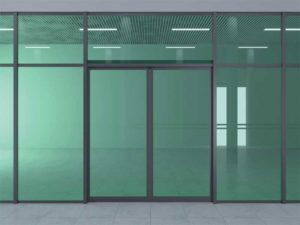 When we approach a door, we need to be able to find it, open it, travel through it, and close it, all while doing it safely and easily, and with minimal fatigue. In the author's opinion, there are six critical features associated with a doorway—appearance, identification, approach, operation, passage, and protection. Some may argue seven, if security is included as a standalone feature.
Appearance
When we approach a doorway, we look or feel for the opening and hardware. Without visual-contrasting or visually differentiating the door from its surrounding, finding the door and its operable components can be difficult and/or put people in harms' way. Pursuant to the proposed 2020 NBC changes, except for facilities for persons with dementia, primary doorways into public areas and access to exits may be required to be provided with a door or door frame that visually contrasts from adjacent wall surfaces. Requirement or not, all doors should be easy to find through visual contrast in some way (Figure 1).
The author has 20/20 vision and admits to walking into her fair share of doors due to a lack of colour-contrast or visual differentiation from their surroundings.
Every building code has slightly different requirements for transparent doors and panels, but the intent behind the requirement remains the same—to limit the probability someone may manoeuvre into a door, potentially causing harm. Where there are transparent (clear, glass, see-through) doors, they are, at minimum, required to be enhanced with mullions, markings, or other visually contrasting elements that extend the full width of the door. Meanwhile, from an OBC, CSA B651, and RHFAC perspective, it is recommended (if not required) to label transparent doors with visually contrasting strips or various designs at one or two different heights (one between 900 and 1100 mm [35 and 43 in.] and another between 1350 and 1500 mm [53 and 59 in.] above the finish ground or floor surface), so as to be viewed from different angles.

Control the content you see on ConstructionCanada.net!
Learn More.