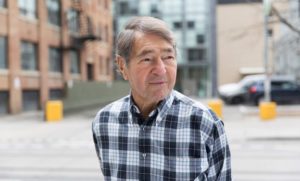 Jack Diamond, a principal of the architecture firm Diamond Schmitt, and one of the most significant and defining Canadian architects of his generation passed away Sunday afternoon, Oct. 30, 2022, a week shy of his 90th birthday.
Born in South Africa, educated in architecture at the University of Cape Town and politics, philosophy and economics at Oxford University, Jack Diamond established his first architectural practice in South Africa. After teaching at the University of Pennsylvania and working with the legendary American architect Louis Kahn, he inaugurated the Master of Architecture program at the University of Toronto in 1964. From that time onward, Toronto was his home.
Jack Diamond's contribution to urban reform was profound. He led the implementation of infill housing in Toronto to strengthen existing neighbourhoods at risk. He demonstrated the economic and societal benefits of transforming heritage for new uses. He illustrated low-rise alternatives to high-rise development at comparable land use densities. He articulated the negative impacts of low-density suburban sprawl on public transit, servicing costs, social cohesion, and the environment.
His passion for excellence in architecture is evidenced by numerous projects including the Four Seasons Centre for the Performing Arts in Toronto, and the Life Sciences Centre and Medical School at the University of British Columbia. Jack was a teacher, collaborator and mentor who shaped an exhilarating studio culture. A significant number of architects mentored by the office have also formed important practices in Toronto, across Canada, and abroad.
He was a gold medalist of the Royal Architectural Institute of Canada, a member of the Order of Ontario, one of the highest civilian honours bestowed by the province, and an officer of the Order of Canada, the cornerstone of the Canadian Honours System recognizing an individual's outstanding achievements, dedication to the community, and service to the nation.
His interests and commitment extended beyond urbanism and architecture. Jack Diamond was one of 5 commissioners appointed by the Premier of Ontario to review land use, transportation, taxation, and governance in the Greater Toronto Area. He was also a Commissioner in the Ontario Human Rights Commission.
A celebration of Jack Diamond's life will be held on Nov.19 between 4:30-6:30 pm at the Four Seasons Centre for the Performing Arts.