by Abhishek Gaur, PhD, Flonja Shyti, EIT, and Bas A. Baskaran, PhD, P.Eng.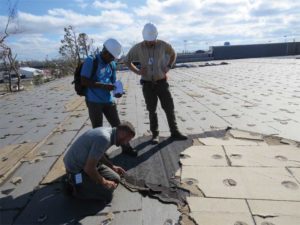 The National Building Code of Canada (NBC) and the National Energy Code of Canada for Buildings (NECB) provide minimum building requirements at Canadian locations based on their historical climate characteristics. Observational records suggest Canada has, over the last 70 years or so, on average warmed at a rate twice the global average, meaning Canada is at higher risk than many other countries to the climate change effects. Future projections suggest a significant shift in key climate variables and their extremes in the years to come—the degree of which will depend on the amount of greenhouse gases (GHGs) emitted by the global community (Read the article "The representative concentration pathways: An overview" by Detlef P. van Vuuren, Jae Edmonds, and Mikiko Kainuma.).
The National Research Council Canada (NRC) is currently undertaking work to integrate climate resiliency into building and infrastructure design, guides, and codes as part of the Climate-resilient Buildings and Core Public Infrastructure initiative. The authors present a framework for climate-resilient design of commercial roofs. This framework will become part of the Canadian Standards Association (CSA) A123.26, Performance Requirements for Climate Resilience of Low Slope Membrane Roofing Systems.
The framework has three distinct parts:
determination of climate zone severity classes of NBC locations;
selection of a resiliency and roof performance level; and
locating adaptation measures commensurate with the chosen climate zone severity, resiliency, and building performance levels with the help of a user interactive tool.
Determination of climate zone severity classes of NBC locations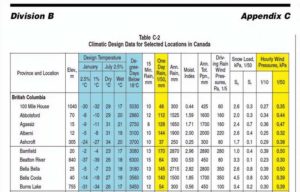 As shown in Figure 1, the Table C2 of NBC 2015 provides values of design parameters useful for the determination of building and infrastructure elements at 678 locations across Canada. Two design parameters included in the table—1/50 hourly wind pressures and 1/50 one-day rain—were selected for climate resilient performance requirements. These climate elements were chosen because they are of critical importance for resilient roofing design. In other words, the roof has to stay where it belongs without getting blown off by wind. If it remains part of the building envelope, it has to be watertight to provide a livable indoor environment from rain events.
Current values in Table C2 are based on historical observations of climate at those locations. As part of a memorandum of understanding (MoU) between the Environment and Climate Change Canada (ECCC) and NRC to meet the deliverables of Climate-resilient Buildings and Core Public Infrastructure (CRB-CPI) project, ECCC has provided NRC with, among other information and guidelines, future projected changes in design parameters included in Table C2 of NBC. The projected changes have been calculated between a baseline (1986-2016) and multiple future time-periods coincident with potential 0.5, 1, 1.5, 2, 2.5, 3, and 3.5 C (0.9, 1.8, 2.7, 3.6, 4.5, 5.4, and 6.3 F) future increases in global average temperatures (Figure 2).
The climate zone severity classes were derived using this future projected design parameters data on the basis of the projected changes in extreme wind and rainfall variables. The following steps were undertaken to obtain climate zone severity classes for NBC locations.
 1. Obtain the range of projected future changes in climate extremes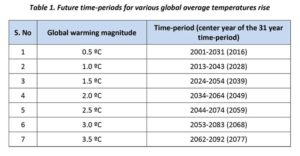 The range of projected changes in extreme wind and rain were obtained by analyzing the projected changes in 1/50 hourly wind pressures and 1/50 one-day rainfall, respectively. Projected changes at all NBC locations corresponding to global temperature increases of up to 3.5 C were taken into consideration when finding the range of projected changes.
2. Formulate climate zone severity classes
Three climate zone severity classes—normal, severe, and extreme—were formulated separately for wind and rain extremes based on projected changes. The definitions of the extreme wind and rain severity classes were finalized by expert judgment and active discussions with key government and public stakeholders.
3. Assign NBC locations with climate zone severity classes
NBC locations associated with different sets of projected changes in extreme wind and rainfall under different levels of temperature increases were categorized into one of the three categories of climate zone severity classes. This led to the identification of the total number of stations falling into each climate zone severity class for different levels of future temperature increases.

Control the content you see on ConstructionCanada.net!
Learn More.