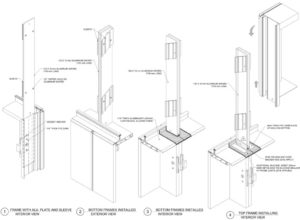 Mockups
Mockups are set out in the technical specifications, but they get missed or executed after full-scale installation has already commenced, which is a lost opportunity. Mockups help establish the quality of work and review installation procedures before full-scale installation begins. In this way, one can reduce the potential for systemic deficiencies that could lead to poor performing assemblies or rework. Often the simple mistakes are the costliest.
Figure 9 is an example of an insulated metal panel (IMP) system that was installed without a mockup. Consultants were also not notified when work commenced. Upon review, it was noted the interior air seal sealant had not been installed or installed incorrectly, and the contractor had to remove and reinstall 30 per cent of the overall panels to rectify the issue. A one-hour mockup could have saved both the consultant and contractor time and headaches.
Mockups also provide the opportunity to work-out complex details, which may otherwise be concealed and potentially lead to significant discontinuities in the building enclosure. The goal of mockups is to reduce the potential for control layer discontinuity, thereby producing leak-free, airtight, and thermally efficient buildings.
Enhanced building envelope review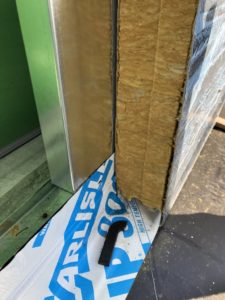 Although the contractor is responsible for undertaking the project, a key element to ensuring success and the long-term performance of the building is QA. It is recommended a building envelope specialist perform site review twice a week, as dictated by the contractor's activities. This allows the project team to identify issues/deficiencies before being covered up or progressing to a point where it becomes costlier to rectify during construction or when the building is occupied and operational (Figure 10). It also assures the owner the specified performance will be achieved due to direct reviews.
Site testing
In-situ testing of the building enclosure during construction provides another level of QA/C that the envelope is performing in conformance with the specified targets. Tests for air and water penetration resistance are recommended to be performed on windows and glazed assemblies. The author recommends tests not only in a mockup, but also periodically during construction. In a mockup, testing can help identify potential installation issues that could lead to systemic failure. Periodic testing provides a level of assurance the quality of work and performance of the system is consistent throughout the construction process.
In recent code changes, whole-building airtightness testing during and post construction became mandatory. This test aims to produce more airtight buildings and improve durability, occupant comfort, and effectiveness of mechanical ventilation systems, lower utility costs, and enhance resiliency. Although in some jurisdictions airtightness targets are not being enforced at this time, it is critical fundamental building science principles are given the attention they need at all stages of the project to increase the probability these targets can be met once they become enforceable. Failing an airtightness test near the end of a project's construction is a risk all parties should plan to avoid.
Onsite quality control
QC can have a significant impact on the overall performance of the enclosure/building. Co-ordination between trades is where a number of discontinuities can occur through incorrect overlaps, compatibility issues between materials, timing/sequencing of trades, etc. Figure 11 is an example of how the timing and sequencing of trades can lead to discontinuity in the building enclosure. In this example, the brick shelf angle and offset plates were installed prior to the wall's air and vapour barrier membrane transition to the foundation wall's waterproofing, creating an air and moisture barrier discontinuity at the top of the foundation wall.

Control the content you see on ConstructionCanada.net!
Learn More.