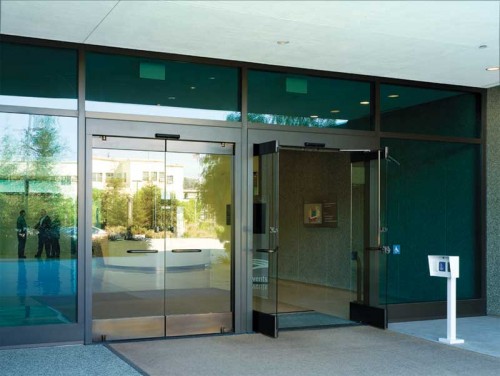 By Mark Graves
Daily, people pass through buildings without much thought regarding the effort needed to open a door. However, many of those in wheelchairs, pushing baby strollers, or carrying multiple packages can sometimes find things more challenging. With a power-operated door, removing the barrier for entry is as simple as tapping a button. While the technology is not new, modern power-operation engineers have designed smarter ways to allow doors to open as easily—and to stay open for as long—as individual users need.
Some power-operated doors also have the capability to be synched to a building's emergency system, allowing them to automatically power open during a fire, and then stay open indefinitely. This facilitates both efficient occupant exit and smoke evacuation/makeup air, making it the safest possible choice.
When this technology is combined with the sophistication and opening ease associated with balanced doors, the entry system becomes a complete machine—simple in its operation, but intricate and precise in its design. In terms of accessibility, ease of use, safety, energy efficiency, and esthetics, few options are more sensible than pairing balanced doors with power-operation.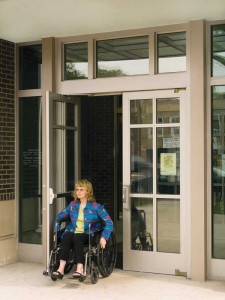 A balanced door employs a unique design in which the fulcrum is placed at one-third the width of the door so one-third of the door leaf recesses into the facility. This creates a more balanced pivot point for superior weight distribution. Among other numerous advantages, this construction allows for heavy doors made of durable materials to be opened effortlessly in spite of external factors like wind and building stack pressure. Its construction sets it apart from conventional butt-,continuous-, and pivot-hinged doors, yet the door offers similar opening space—a critical consideration for accessibility concerns.
Balanced doors are ideal companions for power-operation because they are durable, easily operated, and proven to last (or even outlast) a building's life. A door with power-operation is a long-term investment in accessibility, and it is crucial the door system housing the technology be durable and dependable enough to support and enhance that investment.
Accessibility affords independence
The first and most obvious condition for which a specifier might choose a power-operated door is to provide access to people with disabilities. Power-operated doors allow independence for those with real, physical constraints. Access is a social responsibility that facility managers should not take lightly, and power-operated doors offer a viable response.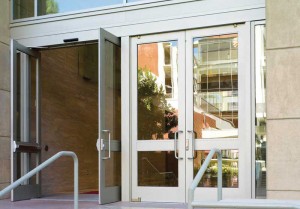 While at this time Canada does not have a national comprehensive set of accessibility guidelines for people with disabilities—at least not in the same capacity as the U.S. Americans with Disabilities Act (ADA) or the U.K. Disability and Equality Act 2010—there are codes that do promote equal access for the physically handicapped. Within the international construction industry, local and provincial regulations, along with forces like the Uniform Building Code (UBC), the International Building Code (IBC), and the Building Officials Code International (BOCI), provide helpful guidelines for builders to achieve accessibility goals.
The National Building Code of Canada (NBC), which forms the basis for all of the provincial building codes, sets forth some guidelines concerning accessibility for entryways. While these guidelines have no legal status until adopted or adapted by provincial agencies, it is important to choose an entryway manufacturer well-versed in the code to ensure entry systems are built to maximum accessibility standards.
Part 3 of NBC is applicable to larger buildings (as defined by Part 1) and outlines "Fire Protection, Occupant Safety, and Accessibility." Though power-operation is not a focus of this part of NBC, it is critical for specifiers investing in power-operation technology to be aware of these guidelines so the entry system's total accessibility is cohesive. Clear-width guidelines, for example, ensure proper space for wheelchair users. Paragraph 3.8.3.3 in the "Barrier-free Doorways and Doors" section reads:
Every doorway in a barrier-free path of travel shall have a clear width of at least 800 mm [31.5 in.] when the door is in the open position (measured from the face of the door at 90 degrees to the outside edge of the frame stop, the projection of exit devices are taken into account).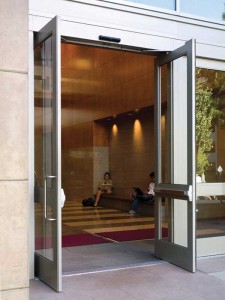 For a single balanced door, it is possible to meet the 800-mm minimum width requirement, provided the door leaf is at least 940 mm (37 in.) with a 1092-mm (43-in.) total frame width. This allows the 102 mm (4 in.) required for balanced hardware, the approximately 25 mm (1 in.) required for door stop material on the opposing side, and the 76-mm (3-in.) door jambs at each side. A pair of doors with a 1981-mm (78-in.) frame (i.e. 914 mm [36 in.] per door) will also provide an 800-mm opening with one door fully open, bringing in similar opening dimensions to a swing or pivot door.
In short, a balanced door will provide the necessary opening space to accommodate access for people with disabilities, allowing power-operation technology to fully facilitate independence for those who need it most.
Easy to open, easy to close
When choosing a power-operation mechanism to accompany an entry system, opening and closing concerns become paramount. Users with disabilities—or even those carrying luggage, handling shopping bags, or pushing delivery dollies—often find it crucial the mechanical opening and closing of a powered door be fluid at all points during operation. The unique design of a balanced door not only ensures this fluidity during powered or manual operation, but also protects electronic mechanisms with its solid construction.

Control the content you see on ConstructionCanada.net!
Learn More.