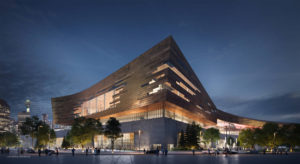 The Calgary Stampede and development partner Calgary Municipal Land Corporation (CMLC) have reached a construction milestone for the BMO Centre expansion. Crews broke ground on the new facility in Stampede Park—a $500-million project in Calgary's Culture and Entertainment District.
The pre-construction phases rolled out over the past 24 months. The Calgary Stampede and CMLC chose the design team in Spring 2019 and revealed the facility's design in June 2020, followed by construction of Hall F through the summer of last year. Crews have worked to prepare the site with utilities upgrades and demolition work over the past year, readying the convention center for its 52,026-m2 (560,000-sf) expansion.
"The BMO Centre expansion will provide state-of-the-art facilities for community engagement and economic benefit through job creation and tourism," said Steve McDonough, Calgary Stampede president. "The expansion will anchor Calgary on the international map as a leading convention host, attracting larger conventions and meetings to our province."
Designed by Stantec, Populous, and S2 Architecture, the building's innovative design will stand out in the Calgary skyline. Beyond offering double the space of the existing BMO Centre, the new facility will reflect, inside and out, the best practices in convention facility design, Calgary Stampede said in a press release.
"The Calgary Stampede's history goes back over 100 years, and it is wonderful to see 'The Greatest Outdoor Show on Earth' continue to grow and adapt with the times and needs of Calgary, Alberta, and Canada," said the Honorable Catherine McKenna, federal Minister of Infrastructure and Communities.
"This incredible $500-million project will help create thousands of jobs and millions of dollars in economic benefits, as our world-class city delivers a world-class expo and convention centre," said Alberta Premier Jason Kenney. "This is an important step in our economic recovery, and demonstrates the optimism, hard work, vision, and entrepreneurial spirit that makes Calgary the heart of the west."
When it opens in 2024, the BMO Centre will be the largest convention facility in western Canada.