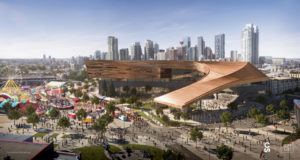 The Calgary Stampede and development partner Calgary Municipal Land Corporation (CMLC) have unveiled designs for an expanded BMO Convention Centre. This $500-million expansion is expected to modernize the facility and enable Calgary to host major conventions on a global scale.
Last year, the Calgary Stampede and CMLC carried out a rigorous competitive process to select the design team of Stantec, Populous, and S2 Architecture for this project.
The BMO Centre will be the largest conference facility in western Canada (and the country's second largest after Toronto's).
The centre will have over 92,903 m2 (1 million sf) of total floor space, including 32,516 m2 (350,000 sf) of contiguous exhibit space, which would more than double its current rentable area. The new facility is expected to espouse, inside and out, today's best practices in premier conference facility design. The interior spaces will be ample and adaptable; meeting rooms will be wired for instant connectivity, flexible breakout areas will facilitate human connections, and outdoor spaces will invite attendees to experience the natural surroundings, diverse amenities, and western hospitality.
This state-of-the-art, tier-one facility is designed to meet the needs of the convention and consumer show industries in 2024 and beyond.
The project is on schedule to meet the projected June 2024 completion date. The development permit has been submitted and construction of Hall F (9290 m2 [100,000 sf] of additional space) is on track for completion later this month. Crews will begin demolishing existing structures in the fall and break ground on the new building next year.