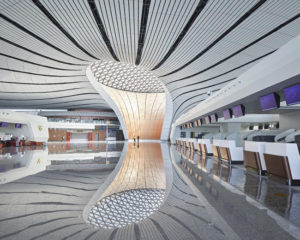 Designed by Zaha Hadid Architects, the Beijing Daxing International Airport in China is now open. At 700,000 m2 (7.5 milllion sf), the passenger centre is the world's largest single-built terminal.
Nicknamed 'the starfish,' the airport echoes principles of traditional Chinese architecture which organizes interconnected spaces around a central courtyard. The terminal's design guides passengers through the airport toward the grand courtyard at its centre—a multi-layered meeting space at the heart of the structure.
Six forms within the terminal's vaulted roof reach to the ground to support the formation and bring in natural light. Natural light also enters the terminal via a network of linear skylights providing an intuitive system of navigation.
Structural spans of up to 100 m (328 ft) create the terminal's large public spaces.
Photovoltaic (PV) power generation is installed throughout the airport to provide a minimum capacity of at least 10 MW. Beijing Daxing's centralized heating system with waste heat recovery is supported by a composite ground-source heat pump system incorporating a concentrated energy supply area of nearly 2.5 million m2 (27 million sf).
The airport also implements rainwater collection and a water management system that employs the natural storage, permeation, and purification of water in new wetlands, lakes, and streams to prevent flooding and counter the summer 'heat island' effect on its local microclimate.