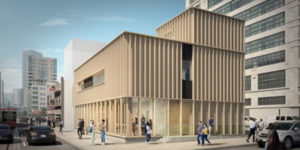 WZMH Architects has rebranded its innovations lab as 'sparkbird labs,' which will continue to work with Toronto's Ryerson University to develop new, digitally enabled building concepts.
While some of the sparkbird lab's ideas may not advance beyond conceptual stages, others are expected to reach the market soon, including a new project WZMH is working on with a university. The Ryerson University Smart Campus Integration and Testing Hub (SCITHub), headed up by WZMH Associate Principal Jamie Lee, will be the world's first building which is 100 percent digitally enabled. It is also the first project to integrate WZMH's Intelligent Structural Panel (ISP).
From the first concept, the Intelligent Structural Panel, to its Black Box (DC based smart building controllers), mySUN (microgrid in a box), Sunrider (energy harvesting bike) to prefabricated solutions, and green energy producing devices, the firm's in-house lab displays working physical prototypes, as well as software programming and physical construction projects.
The lab also hosts weekly public charrettes to further dialogue on topics like new construction methods and materials, and sustainable practices, including prefabricated and modular solutions, with the goal to help advance the practice of architecture beyond the traditional and improve our built environment.