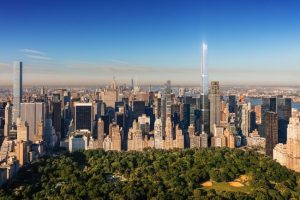 The Central Park Tower in New York City has topped out at 472 m (1550 ft), making it the tallest residential building in the world.
Designed by Adrian Smith + Gordon Gill Architecture (AS+GG), Central Park Tower's façade features combined elements of glass, satin-finished stainless steel, and light-catching vertical and horizontal details. At a height of 91 m (300 ft) from the street, the tower cantilevers to the east, creating Central Park views for all north-facing residences.
Rottet Studio designed the interiors of the residential units.
Luxury department store Nordstrom will fill the base of the Central Park Tower with a seven-storey store occupying approximately 27,871 m2 (300,000 sf).