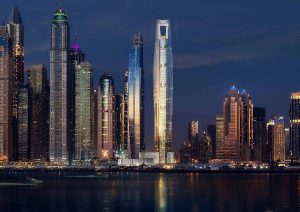 Ciel, the First Group's hotel project currently under development in Dubai Marina, United Arab Emirates, will be the world's tallest on completion.
Designed by Norr, the landmark hotel will reach a height of 360 m (1181 ft) and will house 1042 luxury suites.
Featuring contemporary interiors and a glass observation deck providing 360-degree vistas across Dubai Marina, the Palm Jumeirah, and the Arabian Gulf, Ciel will add to this iconic precinct's skyline.
Ciel's design highlights include a rooftop leisure deck featuring a luxury swimming pool, fitness centre, and steam rooms. The rooftop area will also house two of Ciel's four dining facilities.
Ciel is scheduled to open in late 2023.