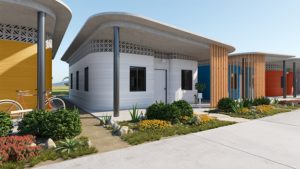 The world's first 3D-printed village could soon be produced in Latin America. Yves Béhar and industrial design firm Fuseproject aims to build it in just 24 hours.
The homes will be built for families living on less than $200 per month and provide access to safe housing and shelter from both environmental and physical dangers.
"It is our belief designers, builders, and technology innovators have the potential to bring unprecedented speed and scale to housing design that can elevate the lives of some of the most impoverished populations around the globe," Fuseproject said on their website. "3D printing, in particular, offers a new and powerful tool for realizing this potential and driving this mission forward."
Fuseproject partnered with New Story, a nonprofit working on a mission to end global homelessness, and Icon, a construction technology company, to design, plan, and build the first ever 3D-printed community. This method of homebuilding will be delivered to families who need affordable housing that adapts to their day-to-day lives in a semi-rural part of Latin America.
Fuseproject worked directly with the communities they will be designing for to learn more about their culture and environment to help ensure they provide options that respond to their housing needs extending beyond single traditional home design. With 3D technology and the unique design possibilities, they aim to address questions related to climate, family structure, and the role homes play in creating a larger community.