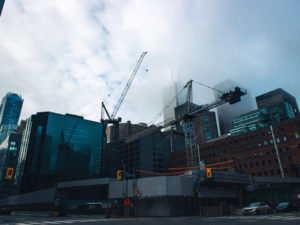 The Ontario Construction Secretariat (OCS) has released the Coronavirus Contractors Survey 2: Restart & Recovery to provide insight on how the construction industry is restarting and recovering from the initial effects of the coronavirus pandemic.
This report is the second in a series of independent surveys conducted by OCS. Between May 11 and 15, the OCS led a survey of 203 industrial, commercial, and institutional (ICI) contractors from across the province.
The new survey has found ensuring the health and safety of workers remains the top concern of contractors. More than three in 10 contractors (31 per cent) believe it will be highly difficult or impossible to ensure work sites are adequately sanitized and 83 per cent of contractors expect worksite sanitation practices will change permanently. Other prominent concerns include the impact physical distancing has on productivity and project costs, and the availability of work, whether it be general demand and investment in construction, or quick approval of shovel-ready projects and rollout of government infrastructure spending.
With new measures in place to keep health and safety at the forefront, contractors now must consider the impact it will have on costs and productivity. On average, contractors expect personal protective equipment (PPE) and physical distancing requirements to increase project costs by 28 per cent and 39 per cent , and the latter is expected to have a high impact on project completion times.
It is important to note the measures taken by contractors to protect their workers and ensure work site health and safety. These actions include establishing contact tracing procedures (71 per cent), having only one trade or subcontractor on site a given time (67 per cent), using technologies to manage the number of workers on site at a given time (48 per cent), and checking temperatures of workers (42 per cent).
The construction industry has taken a significant blow financially as a result of the pandemic. Nearly three-quarters (73 per cent) of firms expect less revenue in 2020 than last year and on average, annual revenue is expected to decline by 26 per cent. There is doubt by 17 per cent of contractors that they will be able to survive over the long-term and nine per cent of firms are considering mergers/acquisitions to stay alive.
Firms are ready to work as 86 per cent of them have capacity to take on new shovel-ready projects. However, 35 per cent of contractors expect it to take at least six months to get back to business-as-usual and nine per cent do not believe they will ever get there. Supply chain disruptions persists with more than six in 10 contractors still reporting the coronavirus pandemic is causing medium to high impact, leaving 62 per cent of contractors who are planning to source more material locally or domestically.